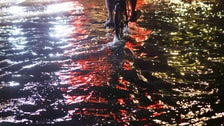 HALIFAX, Nova Scotia (AP) — An unusually long procession of intense thunderstorms dumped record amounts of rain across a wide swath of Canada's Atlantic coast province of Nova Scotia over the past two days, causing flash flooding, road cleanings and power outages.
Torrential downpours began Friday afternoon in the Halifax area, dumping more than 200 millimeters of rain in some areas. The port city usually receives around 90 to 100 mm of rain in an average July.
Based on radar estimates and unofficial sightings, Environment Canada said on Saturday some areas may have received more than 300mm in 24 hours. Radar maps show that the heaviest rainfall extends along the southwest coast of the province to a point north of Halifax.
Widespread flooding was also reported in Lunenberg County, west of the Halifax area.
On Friday evening, water levels rose so rapidly in the Bedford area that Halifax Search and Rescue volunteers were using small boats to rescue people from flooded homes.
In the Hammonds Plains area, northwest of the city, flooding washed away the driveways and shoulders of many roads.
This is the same area where 151 homes and businesses were destroyed by a wildfire that started on May 28, forcing evacuations that affected 16,000 residents. And for much of the past week, the Halifax area has been sweltering under a still dome of humidity – a rare occurrence so close to the coast.
It was only last fall that post-tropical storm Fiona slammed into the Atlantic region, killing three people, flattening dozens of homes and knocking out power to more than 600,000 homes and businesses. Fiona was the costliest weather event in the region's history, causing more than C$800 million ($604 million) in insured damage.
"It's pretty obvious that the climate is changing – from Fiona last year to wildfires in the spring and now to floods in the summer," Halifax Mayor Mike Savage said.
"We have storms that were considered once-in-50-year events…quite regularly," he added.
Although official statistics have not yet been recorded, it is believed that the Halifax area has not seen this level of precipitation since August 16, 1971, when Hurricane Beth made landfall near the eastern tip of mainland Nova Scotia and then roared over Cape Breton. At that time, nearly 250mm of rain fell in the Halifax area, causing extensive flooding and damage.