Buddhist murals in China that date back to the 4th century are threatened by heavy rains and rapidly fluctuating humidity, Greenpeace Experts said Monday.
Threads needs these five missing features to be a Twitter killer
The art of the cave temples of Dunhuang and historic sites of Zhangye, both located in the northwestern province of Gansu, are threatened by increased heavy rains. The area is historically dry which has preserved much of the ancient art and structures. Dunhuang is home to the Mogao Caves, a UNESCO World Heritage Site. The caves contain over 40,000 square meters (430,550 square feet) of wall paintings and thousands of painted statues dating from AD 400 to the 1400s. Artifacts in nearby Zhangye City include cave temples which are national heritage sites, according to Greenpeace.
Temples and ancient art have stood for over a thousand years, but climate change has called their continued existence into question. Overall rainfall in the Gansu region has declined since 2000, but this has been replaced by an increase in extreme rainfall events. Rainwater seeped into some structures, damaging them. The murals began to crack and even peel and peel from the foundation, according to Greenpeace.
At a meeting in Beijing earlier this week, climate scientists and conservation experts from the Dunhuang Research Academy discussed how weather changes cause by climate change in Gansu were harming historic sites.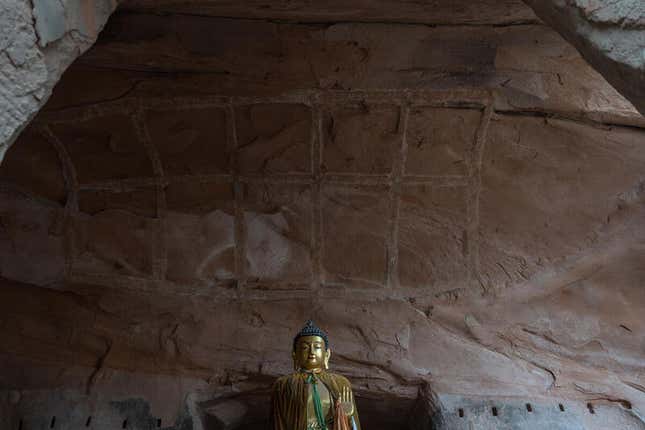 "Gansu is famous for its caves and the art that has been stored there for centuries. Increasing rainfall events in the desert pose an acute risk. Humidity spikes, flash floods and cave-ins are already happening," said Li Zhao, senior researcher at the Greenpeace office in Beijing.
Researchers in China are conducting a nationwide cultural heritage survey to protect important historical sites from further damage. But Li warned that some may already be missing by the time the ongoing investigation is complete. "They are dissolved before our eyes. It is a painful reality of the impact of climate change," Li said, according to Greenpeace.
Unfortunately, climate change threatens historic sites all over the world. UK peatlands, which are waterlogged and low oxygen ecosystems, naturally preserve different types of organic matter. Lack of oxygen has stopped leather, textiles, and even human remains to decay for hundreds or even thousands of years. Some of the preserved sites predate Roman times. But as the UK gets warmer and the weather around the world changes, some of the the bogs are drying up And exposing heritage sites once protected from the weather.
Other human history sites are threatened with extinction due to the climate crisis. The frozen body of a Iñupiat girl who is around 800 years old in what is now Alaska, was once preserved in permafrost. But as global temperatures continue rise, that the permafrost is melting and revealing what were once protected archaeological sites.
Want more climate and environment stories? Check out Earthher's guides for decarbonize your home, get rid of fossil fuels, packing a disaster duffel bagAnd overcoming climate fear. And don't miss our coverage of latest IPCC climate reportthe future of removal of carbon dioxideand the unbleached facts about bioplastics And plastic recycling.