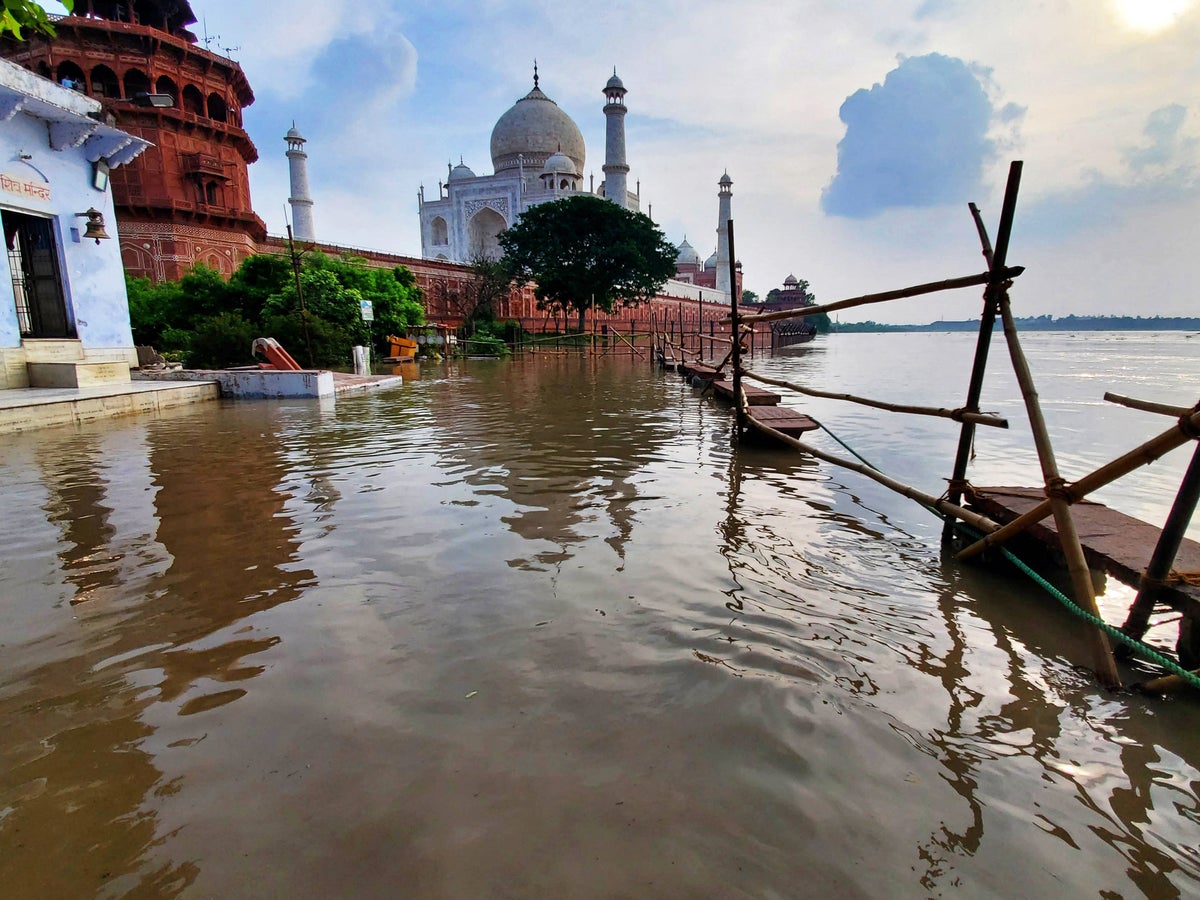 Torrential rains and flooding in northern India have raised concerns over potential damage to the Taj Mahal, where water from the overflowing Yamuna River reached its compound walls.
The water level of the Yamuna has swelled due to constant rains in the region and caused flooding in the national capital Delhi, where the river crosses.
The river also flows right next to the Taj Mahal which is 242 km away in the city of Agra.
On Tuesday, its water level near the 17th-century monument rose to 152m, exceeding the warning level of 151.4m, indicating potential danger, according to India's Central Water Commission (CWC).
The critical level, considered dangerous, is 152.4 m. And since the start of the four-month monsoon season on June 1, the state of Uttar Pradesh, where Agra is located, has seen rainfall equivalent to 108% of its usual amount.
The swelling river has raised fears of potential damage to the 17th-century white marble monument, built by Mughal Emperor Shah Jahan in memory of his queen Mumtaz Mahal.
"If it rains more or the water stays that high for a few days, we will have to reassess the situation," said Raj Kumar Patel, chief archaeologist at the Archaeological Survey of India (ASI), the government agency responsible. conservation of historical monuments, told Reuters.
But there were "no serious concerns" about the monument at this time.
Mr Patel, however, said many other monuments and gardens near the Taj Mahal, closer to the banks of the Yamuna, "were submerged" and sustained damage.
Among the affected sites are the tomb of Itimad-ud-Daulah, popularly known as "baby Taj", which dates back to the 1600s and Mehtab Bagh, also from the same period.
Mehtab Bagh's structure has suffered damage, it has been reported, and its once beautiful garden is now completely submerged and destroyed.
Footage of the Yamuna River rising near the Taj Mahal has also been widely shared on social media.
The river had last reached the walls of the monument 45 years ago in 1978.
CWC data also revealed that its station near the Taj Mahal recorded the highest flood level in the river that year, reaching 154.76m.
On social networks, some citizens have expressed their fears about the water level near the monument.
"It's one thing to see Yamuna go to the fort in Old Delhi…but to see him reach the Taj Mahal is…a very different level of fear. As they say, the river never forgets," said tweeted journalist Vidya Krishnan.
The swelling of the Yamuna due to torrential rains in northern India has led to the evacuation of thousands of people in Delhi.
At least 100 people died after heavy rains.
The river had passed the "danger mark" in Delhi and caused deadly landslides as well as flooding in two other states.
The city-state received record single-day rainfall earlier this month, the highest since July 1982.
Additional reports by agencies