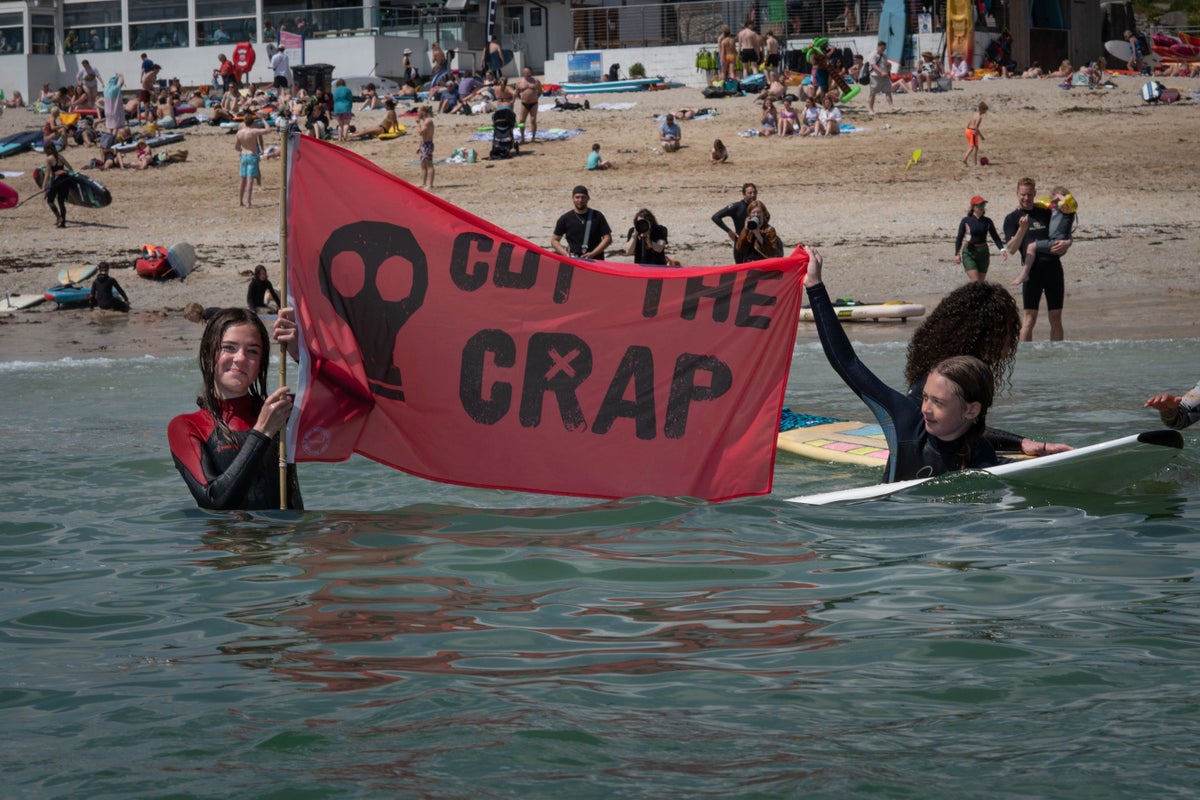 Environmental regulators will be able to impose unlimited penalties on polluters for causing damage, the government has confirmed.
The current limit of £250,000 is to be scrapped following consultation with "widespread public support", the Department for Environment, Food and Rural Affairs (Defra) has said.
This means that the Environment Agency (EA) and Natural England can impose heavy penalties without having to go through lengthy criminal proceedings.
Defra said the amount of penalties will be subject to conviction guidelines and will take into account the extent of the pollution and the degree of liability and harm, as well as the size and ability to pay of the polluting company. .
Environment Secretary Therese Coffey announced her department's intention to allow unlimited fines for water-polluting companies in April, and this has now been expanded to include all environmental companies, companies energy and water to waste operators.
Ms Coffey said: 'Polluters still have to pay. We're removing the cap on civil penalties and dramatically expanding their scope to target a much wider range of offenses – from violations of storm surge permits to careless disposal of hazardous waste.
"It builds on actions taken across government to defend our environment – fighting pollution, protecting delicate ecosystems and enhancing nature."
The new powers will come under the Environmental Permits (England and Wales) Regulations 2016 and will come into force "in due course" after both Houses of Parliament approve the amendments, Defra said.
Environment Agency Chairman Alan Lovell said: 'We routinely prosecute companies and individuals through criminal proceedings, but these new powers will allow us to impose penalties faster and more easily. apply, although the most serious cases will continue to be brought before the courts.
"This should be a strong deterrent – boosting compliance across a range of sectors, reducing pollution and preserving the ecology and prosperity of our natural world."
Defra said future fines and penalties will be invested in a water restoration fund, which will be used to improve water quality.
Campaigners have questioned the government's commitment to making polluters pay because of its cuts in funding for regulators in recent years.
The Reverend Paul Cawthorne, who has spent years investigating unregulated chemical landfills used by Monsanto to bury cancer-causing PCBs, asked if Ms Coffey cared that dangerous chemicals could seep into some major rivers from the United Kingdom.
At least two landfills in South Wales used by Monsanto have leaked PCBs and although they are regulated by Natural Resources Wales, Reverend Cawthorne believes there are others that do not. are not properly tested in England, which would be the responsibility of the EE.
Defra said the new powers would only apply to regulators in England.
Reverend Cawthorne said of the announcement: 'A lot of it feels like window dressing to me.
"Unless the government further encourages the EA to test river sediments and wildlife more often, they will continue to miss much of the most serious industrial pollution that is increasingly affecting our river ecosystems.
"In response to citizens' knowledge of the seriousness of the current situation in our rivers, we want real action rather than defensive public relations."
James Wallace, CEO of River Action, told members of the Greater London Authority on Tuesday that there must be "very significant" fines and penalties for water companies that pollute.
He said regulators had been 'undone' by years of funding cuts and the £2m fines imposed on some companies were 'paltry' and seen as a 'business cost' that was 'not in the picture' on the balance sheet".
He added: "Farming is actually responsible for more pollution and let's not forget the Thames catchment.
"Although we think here in urban terms, a lot of the water comes from agricultural land.
"More than 40% of phosphates come from agricultural land because of diffuse pollution. We need to see the government, whoever it is next time, invest in that as well. »
A Water UK spokesperson said: 'We welcome this announcement. It's only right that regulators have all the powers they need when things go wrong.
"With 99% of wastewater treatment plants fully compliant with their legal permits, the app will only ever be part of the solution.
"Achieving the transformation we all want to see takes hard work, innovation and investment – ​​which is why we are proposing to invest £10billion in the biggest overhaul of our sewers since the Victorian era. "