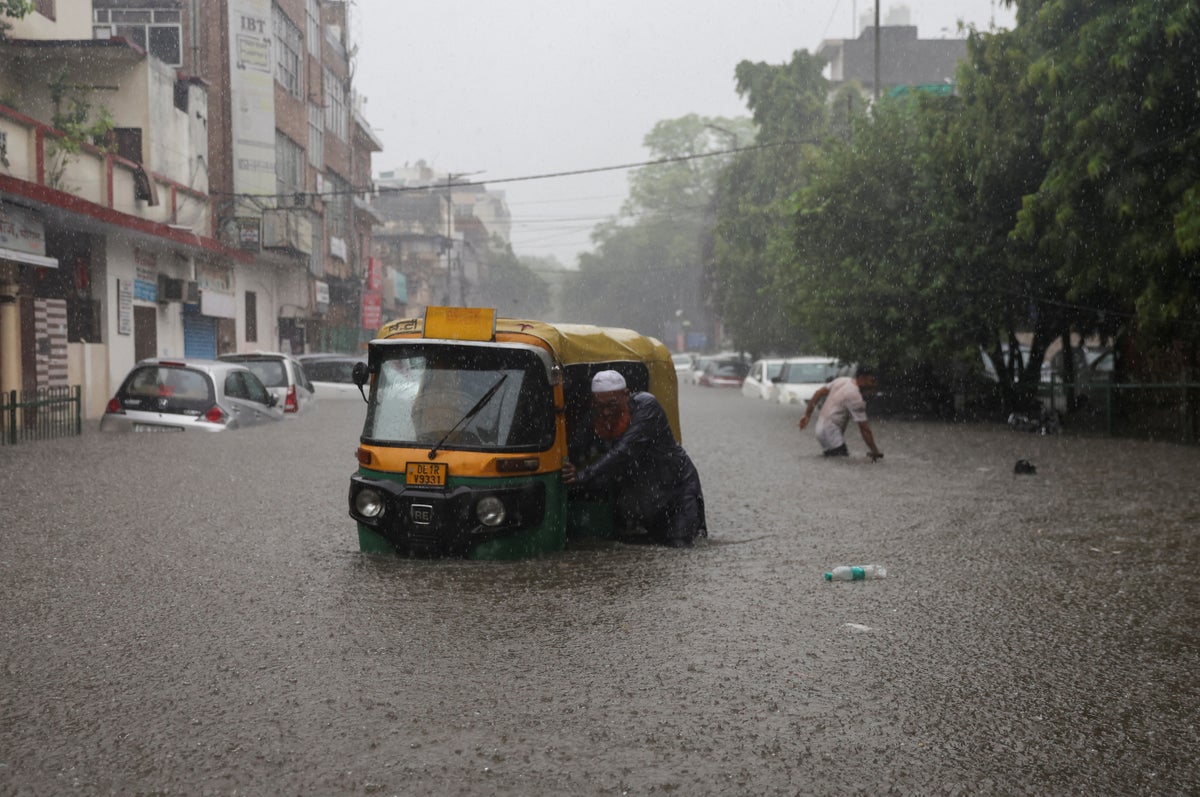 Red alerts have been raised for several parts of India facing heavy rains, while a record downpour in the capital Delhi has caused waterlogging and paralyzed daily life.
On Saturday, National Capital Chief Minister Arvind Kejriwal canceled furloughs for all government officials and asked them to inspect congestion issues, including widespread traffic problems, facing the city whenever there is heavy rain.
This time, Delhi received the highest single-day rainfall in July since 1982 and the third-highest single-day rainfall since 1958, according to the Indian Meteorological Department (IMD).
A tweet from IMD said two areas in Delhi, Ridge and Safdarjung, recorded a total of 28cm or 280mm of rain in the 24-hour period ending at 8.30am on Sunday.
"15% of total monsoon season rainfall fell in just 12 hours," Mr Kejriwal said in a tweet in Hindi. "People were very upset because of the waterlogging. Today, all ministers and the mayor of Delhi will inspect problem areas. Officers from all departments have been instructed to cancel Sunday vacations and go to the field.
In addition to the waterlogging, the rainfall has also caused disruptions in electricity and internet connectivity in several parts of Delhi.
Accidents have also been reported in the capital, including a serious incident in which an elderly woman was crushed to death after part of her house collapsed on top of her due to heavy rain.
The victim was identified as Ranjit Kaur, 56, a resident of the Karol Bagh area in northwest Delhi.
In another incident, a huge wall at Desh Bandhu College in South Delhi collapsed, damaging a number of vehicles.
In the state of Uttar Pradesh, a woman and her six-year-old daughter were killed early Sunday morning after the roof of their house collapsed due to heavy rain.
Meanwhile, red and orange alerts have been issued for northern Indian states.
Red alerts for rain in addition to landslides and flash floods have been issued for the states of Uttarakhand, Himachal Pradesh, northern regions of Punjab and Haryana, and Jammu and -Cashmere.
The IMD predicts that more than 204.4 mm of rain will fall in these areas.
Elsewhere, orange alerts have been raised for Gujarat, western parts of Uttar Pradesh and Madhya Pradesh states and northeastern India.
The IMD predicts that Gujarat, western Uttar Pradesh and eastern Rajasthan could receive 120mm of rain, while parts of Madhya Pradesh could receive 115.6 to 204.4mm of rain.
The weather service also released a list of do's and don'ts for people in areas prone to thunderstorms and lightning.
A 'yellow' alert has also been issued for four districts in the southern state of Kerala.