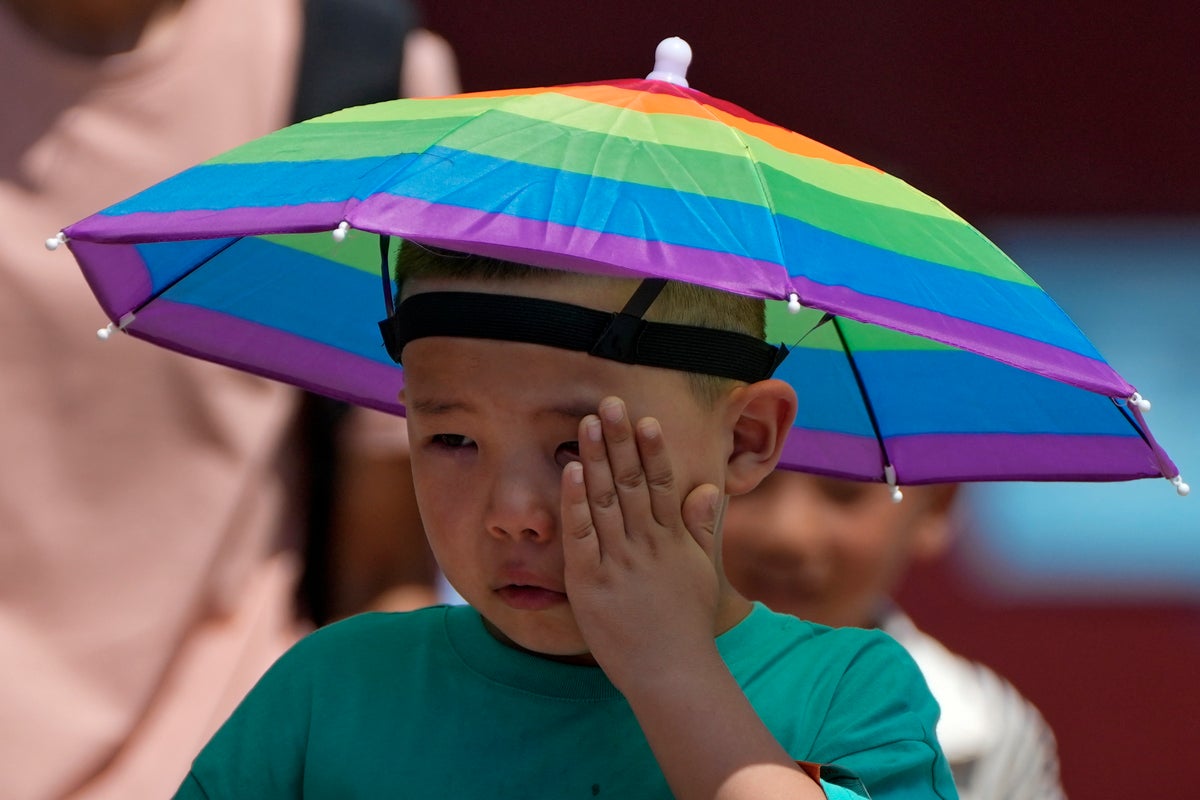 Earth's average temperature set a new unofficial record on Thursday for the third time in a week.
On July 6, the Earth averaged 17.23C (63F), according to an unofficial measurement of Climate Reanalyzer, a platform that uses climate and weather forecast models to take global temperature.
That topped the record of 17.18°C (62.9°F) set on Tuesday and held on Wednesday, which in itself topped Monday's record of 17.01°C (62.6°F).
The figures need to be confirmed by official international and national government bodies but have nevertheless set off alarm bells in the scientific community.
"Such records are the predictable consequence of a short-term El Nino temperature rise on top of the long-term trend of global warming due to human greenhouse gas emissions," tweeted Dr. Robert Rohde, senior scientist for the Berkeley Earth climate association. "Global warming is taking us into an unknown world," he added.
Wherever you look in the world, there's a litany of new extremes. The African continent experienced its hottest night on record, according to US Stormwatch, that tracks extreme weather conditions globally. The overnight low in Adrar, Algeria, was 39.6C (103.3F) on Thursday.
Cities across China opened air-raid shelters on Friday to relieve residents of intense heat as deaths were reported in Beijing and Shaoxing. Earlier this week, the Chinese capital reported more than nine straight days with record high temperatures exceeding 35C (95F), according to the National Climate Center, compounded by drought.
In the UK, the Met Office has issued a heat health alert for six regions as temperatures are expected to soar to 30C this weekend. The warnings were directed to six regions – London, Yorkshire, East and West Midlands, and the east and south-east of England – from midday Friday until 9am Sunday.
Germany has warned the elderly, people with health conditions, pregnant women and parents of young children to seek cool places amid forecasts of 35-37C (95-99F) this weekend combined with high humidity.
The German Health Ministry has urged people to stay indoors, consume enough fluids and avoid strenuous activities, especially during the day.
In Antarctica, temperatures have reached unprecedented levels, reaching up to 4.5°C (8°F) above normal in the polar region.
Dr Friederike Otto, senior lecturer in climate science at the Grantham Institute for Climate Change and founder of World Weather Attribution (WWA) which assesses the role of global warming in extreme weather conditions, calling the new heat records "a death sentence".
"This is not a milestone we should be celebrating, it's a death sentence for people and ecosystems," she said this week. "And, worryingly, it won't be the hottest day for a long time.
"With the development of El Niño, the world will likely break this record again in the months to come. We absolutely must stop burning fossil fuels.
The scorching heat is fueled by emissions caused by the burning of fossil fuels, as well as by El Nino – a cyclical weather pattern that results in severe temperatures in many places.
New record average is more than 1°C higher than on the same day 30 years ago, when global temperatures had already been influenced by the climate crisis.
Along with intense and early heat waves, high temperatures contribute to larger wildfires, erratic rainfall and more powerful cyclones. Extreme weather conditions hit the world's poorest communities the hardest, despite their negligible contribution to global emissions.