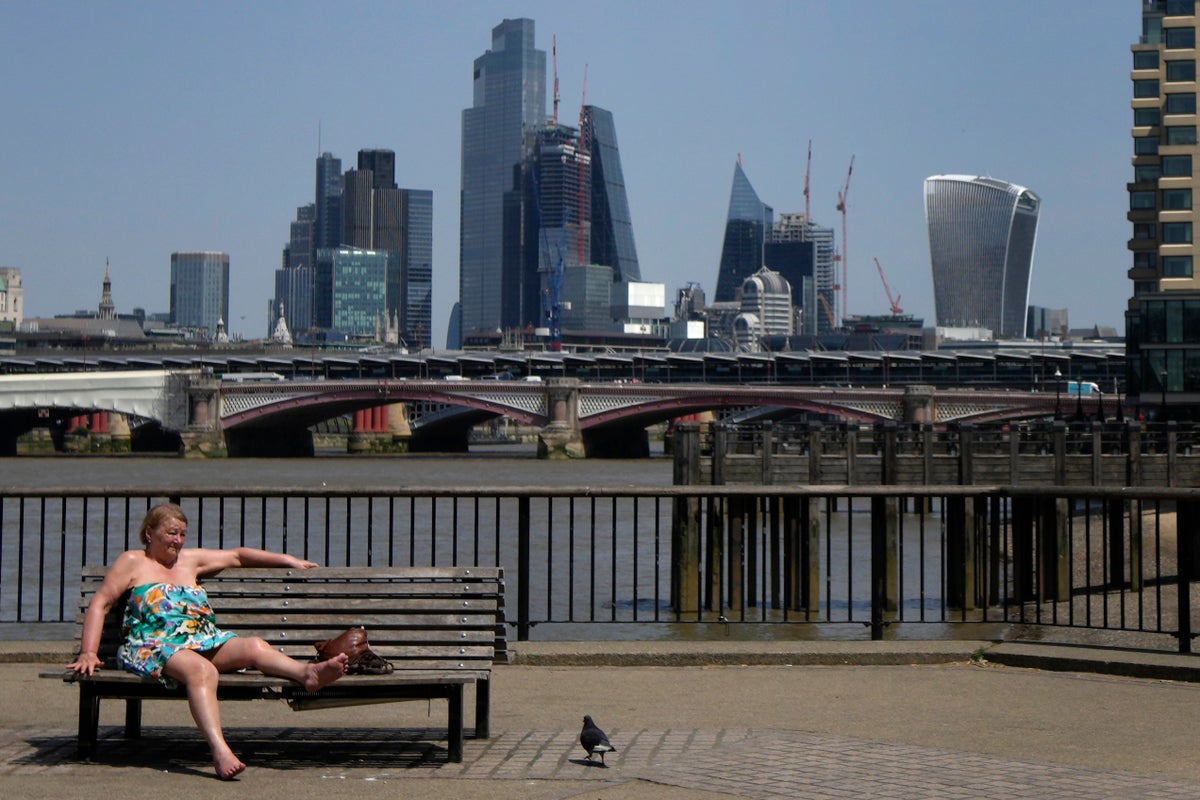 The Met Office has issued a heat health alert as temperatures are expected to soar to 30C this weekend.
A yellow alert has been issued for six areas of England, including London and Yorkshire, as well as the East and West Midlands, and East and South East England.
It comes as temperatures are expected to hit highs of 28C on Friday and 30C on Saturday.
The UK Health Safety Agency (UKHSA) has warned that high temperatures could mean increased use of health services by vulnerable populations and increased health risks for people over 65 or people with health conditions. pre-existing health conditions, including respiratory and respiratory. cardiovascular illnesses.
The alert is currently in place from 12:00 p.m. Friday July 7 to 9:00 a.m. Sunday July 9, with high temperatures also expected overnight.
However, the Met Office has warned the sunny weather will be short-lived as thunderstorms and rain are expected to hit the UK again.
Dr Agostinho Sousa, Head of Extreme Events and Health Protection at UKHSA, said: "This weekend it is important that everyone takes reasonable precautions while enjoying the sunshine.
"The predicted high temperatures are expected to be short-lived, but could primarily affect people over 65 or those with pre-existing health conditions.
"If you have more vulnerable friends, family or neighbours, it's important to monitor them and make sure they are aware of the forecast and follow the necessary advice."
Met Office deputy chief meteorologist Dan Harris said: "Temperatures will rise from Friday, with a plume of continental air allowing temperatures to reach, and possibly locally exceed, 30C in parts of England Friday and Saturday.
"In addition, nighttime temperatures will remain high, especially in cities, which will make the night uncomfortably hot for some.
"Temperatures are expected to start dropping from the west on Saturday and more widely on Sunday as showers and thunderstorms sweep the northeast across the country."
Last month was the hottest June on record in the UK, Met Office figures have revealed.
June was the hottest since records began in 1884, with England, Scotland, Wales and Northern Ireland also reporting their hottest June on record.
Temperatures peaked at 32C last month, with an average average temperature of 15.8C – eclipsing the previous record of 0.9C.
According to the Met Office's long-term weather forecast, heavy showers and thunder are expected to hit the UK from next week.
However, temperatures are expected to be around average for this time of year.