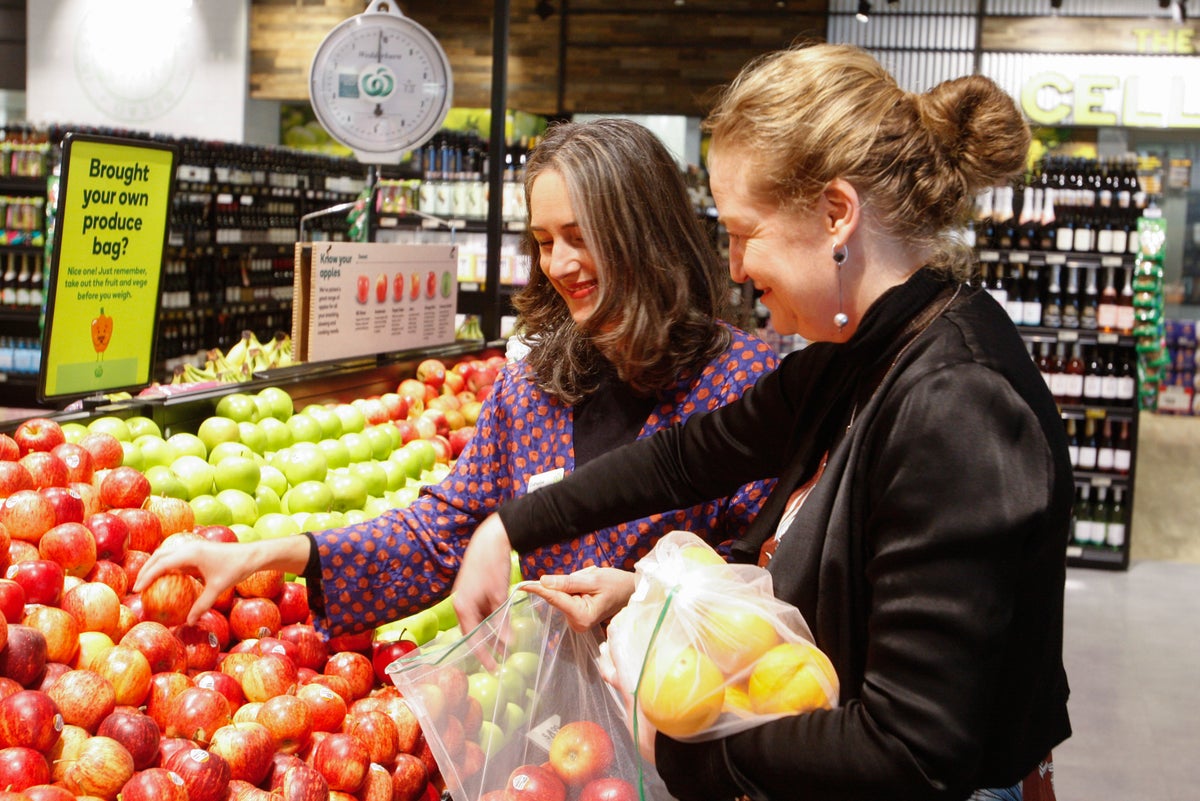 New Zealand has become the first country to introduce a ban on thin plastic bags commonly used by supermarket customers to collect fruit and vegetables.
The new ban, which came into force on Saturday, will also extend to plastic straws and silverware, as the government expands its campaign against single-use plastics which account for half of the plastic produced globally each year. .
"The manufacture, sale or distribution of single-use plastic bags, plastic plates, bowls and cutlery is prohibited," the government said.
However, supermarkets, pharmacies, hospitality venues and health and disability services are still allowed to sell and supply plastic straws to people with disabilities who need them.
New Zealand customers have been bringing their own reusable tote bags to stores to carry their purchases since take-out plastic bags were banned in 2019.
Authorities estimate that, on average, each New Zealander sends more than three-quarters of a tonne of waste to landfill each year.
"New Zealand produces too much waste, too much plastic waste," said Associate Environment Minister Rachel Brooking.
Ms Brooking said the 2019 bag ban had already stopped the use of more than a billion plastic bags in New Zealand, and the new thin bag ban would add a further reduction of 150 million bags per year.
Ms Brooking said the focus would be on educating people not to use plastic bags, but authorities could impose penalties on businesses that choose to flout the rules.
The government's website says all businesses are "legally required to comply with the regulations" and the Department of the Environment will work with businesses first to ensure they understand the rules.
"We will take enforcement action where appropriate, particularly in the event of systemic or ongoing non-compliance," a ministry statement said.
Supermarket chain Countdown has started selling polyester mesh bags that can be washed and reused.
New Zealand began its efforts to minimize plastic use in 2019, when it banned the thicker plastic shopping bags customers used to carry groceries home.
Before extending the ban, officials investigated concerns that the latest ban would not help the environment much if customers simply switched to using disposable paper bags to collect their fruits and vegetables.
"The answer was always yes, it's still worth doing, but we really want to reduce single-use packaging," Ms Brooking said. "So we want people to bring their own bags, and supermarkets are selling reusable produce bags."
Globally, around 300 million tonnes of plastic are produced each year, half of which is for single-use items.
Plastics never completely break down – they just turn into small pieces of plastic that find their way into waterways and food consumed by humans.