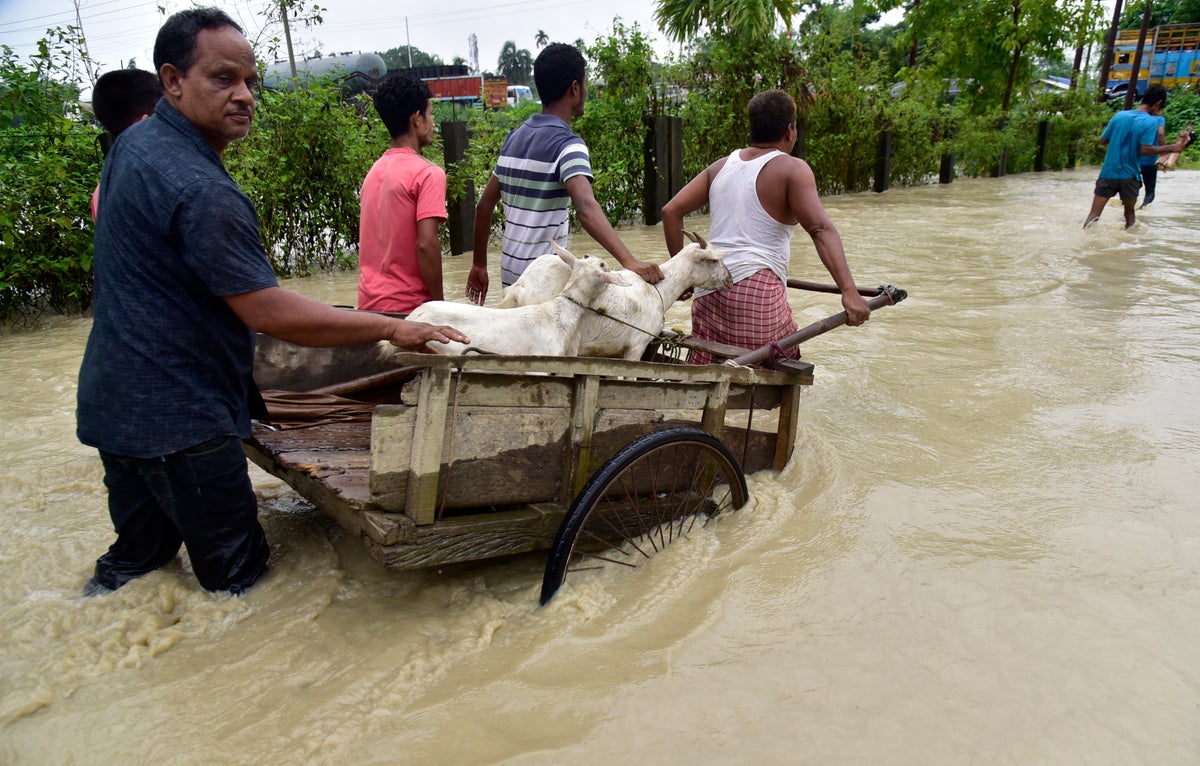 One person has died and tens of thousands have moved to government shelters as heavy monsoon rains hit villages in India's northeast state of Assam.
At least 500,000 people are under the deluge in 12 districts of Assam, which have been put on red alert to prepare for more bouts of rain this weekend.
Nearly 14,000 people are in 83 Assam government-run relief camps in 20 of the state's 31 districts, the disaster management agency said in a statement.
"We are fully prepared to deal with the situation with our relief agencies deployed in the vulnerable and most affected places," said GD Tripathi, a state government official.
One person has died as a result of flooding in Udalguri district, the state government said, adding it was the first official record of deaths from flooding this year.
According to reports, Nalbari district in western Assam had the highest number of displaced people at 3,816.
Most of the designated relief camps were overwhelmed due to incessant rains forcing authorities to make makeshift arrangements on embankments and roads.
People have been seen wading through knee-deep and sometimes waist-deep water levels to move their livestock and other possessions.
One of Asia's largest rivers, the Brahmaputra, overflows every year. It crosses Assam for 800 miles before crossing into Bangladesh, which shares a 160-mile border with Assam.
Besides the Brahmaputra, the Beki, Manas, Pagladiya and Puthimari rivers are also said to have flowed above the danger mark in several sections.
Annual monsoon rains hit the region in June-September. The rains are crucial for the crops planted during the season but often cause significant damage.
Mudslides triggered by heavy rains have occurred in several parts of Assam and Sikkim states, the government said.
The National Disaster Response Force (NDRF), National Disaster Response Force (SDRF) along with the fire services were pressed to assist in the rescue operation. At least 19 boats have been deployed in six districts and 561 people have been rescued so far.
In the neighboring state of Meghalaya, a mudslide demolished a perimeter wall of a large sports stadium, damaging several vehicles parked there.
Last year, floods in India and Bangladesh left more than a dozen dead and millions homeless.
The pattern of monsoons has changed since the 1950s, with longer dry spells interspersed with heavy rains, according to Roxy Mathew Koll, a climatologist at the Indian Institute of Tropical Meteorology in Pune.
Scientists say climate change is a factor behind erratic rains that are triggering unprecedented floods in Bangladesh and northeast India, killing dozens and making life miserable for millions. 'others.
With contributions from the agency.