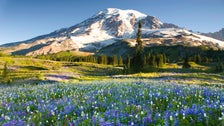 "Yellowstone, the oldest national park in the world, encompasses a vast area of ​​almost 3,500 square miles with many attractions, so people can spread themselves out," Zeris said. "However, beware of bison traffic jams – they have right of way on the roads."
The large number of child-friendly trails also makes it an ideal destination for families during the summer holidays.
"The park is home to 37 landmarks that you can take with your child, including the famous Old Faithful Geyser and the iconic Grand Prismatic Spring," Brockbank said. "Yellowstone offers memorable adventures and views everywhere you look, dramatic canyons, alpine rivers, lush forests, hot springs and gushing geysers."
The park is also home to a variety of animal species.
"Lamar Valley is described as the Serengeti of America," said Gary Elbert, a REI experiences guide and program manager. "If you want to see wildlife, such as bison, elk, pronghorn, coyotes, wolves and bears, this is your destination, and if you're a bird lover, you'll be covered there too. "