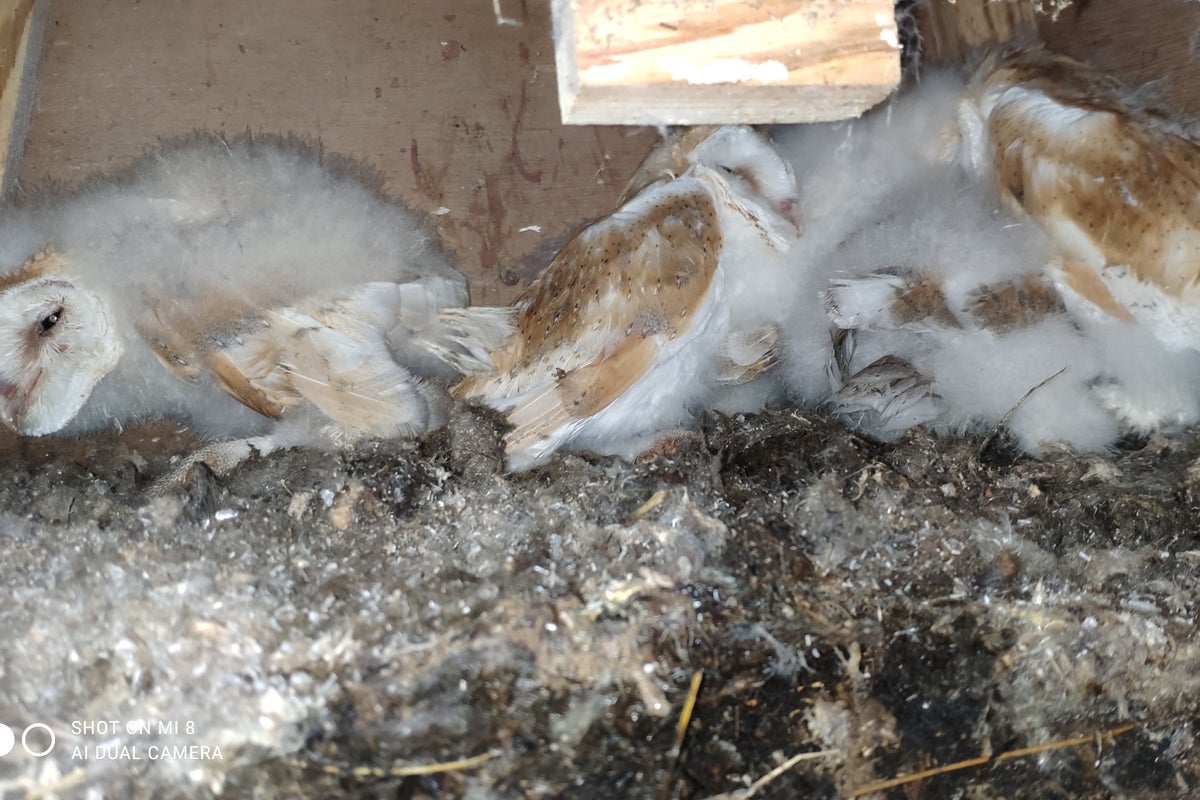 Careful conversation work has produced exceptional broods of barn owls in County Antrim.
Some 14 chicks were discovered in nests by the Lough Neagh Barn Owl Group.
It comes after years of volunteer work to help support birds whose population has been threatened due to loss of suitable habitat, extreme weather conditions and the buildup of toxins from poisoned prey.
The group's Ciaran Walsh said they have more than 70 nesting boxes located across the countryside, from Toome to the outskirts of Belfast and as far south as Moira.
The volunteers were able to access three boxes on Monday afternoon and place rings on the youngsters to follow their progress.
"We had three nests in total which we walked around, the first nest had five chicks and we were able to ring them, the second nest had five chicks and we were able to ring them, then the last nest had four chicks but they were all too young, too small to ring, but we'll be back in a few weeks and ring those chicks too," he told the PA news agency.
"We have three other nests but we cannot access them. They are in the chimneys of old farmhouses. We can't get in but we know there are chicks there. Once they start flying, we can count them, but we can't ring those.
Mr Walsh said the most recent chicks date back to a then-record brood of five chicks found in the area in 2018.
It was later described as the largest brood of barn owl recorded in Northern Ireland.
He said: "It's been pretty good, it all goes back to the very first nest with the five chicks, and those chicks are moving out and finding mates and breeding, staying in the area and building up the local population.
"The first nest with all five chicks inside was sired by one of the first five of 2018."
Walsh said the numbers were good this year, but conservation tended to go up and down.
He said the recent good weather has seen the mice and rats breed more than the chicks have eaten, helping them grow to heavy weight.
"We knew it would happen one day, but it took its time," he said.
"That's how conservation works, you take a few steps forward and then you have setbacks. It moves slowly but once it moves it takes a big leap.
"They feed well, one of the sites this morning where we could see most of the prey was rats, and there's been a boom in young rats in that area and so the owl chicks are good and in good health – the chicks were so healthy and heavy that his scale couldn't weigh them – they are eating well, which is good as it prepares them well for the coming winter.
Lough Neagh barn owls tend to stay within a 12km radius.
"We've put up loads of nesting boxes, about 70 within a 12km radius, so hopefully they'll go into those nesting boxes and that will be next year's growth," he said.
He described controlling all the birdhouses across the countryside as soul-destroying at times.
He said: 'But you have to go and do it, we have boxes in Toome, up to the outskirts of Belfast and up to Moira, so there's a lot of driving, and most of the time they're just filled with jackdaws, not barn owls, so it's a bit soul destroying at times, but you know good days will come like today.
"It's worth it when you see the numbers start to go up. If we hadn't installed the nesting boxes, the birds wouldn't be there. It's a good feeling.
In Northern Ireland, barn owls are protected by the Wildlife (Northern Ireland) Order. It is an offense to intentionally or recklessly damage, destroy or disturb the bird, nest, egg or dependent young at any time.