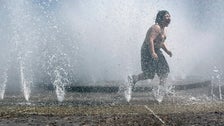 Forecasters have warned people celebrating Father's Day outdoors to take precautions as triple digit temperatures triggered heat advisories across much of the southern United States, sparked thunderstorms that knocked out power from Oklahoma to Mississippi and fanned winds that raised wildfire threats in Arizona and the New Mexico.
A suspected tornado struck near Scranton, Arkansas, early Sunday, destroying chicken coops and toppling trees onto homes, the National Weather Service said. No serious injuries were immediately reported.
Meteorologists said potentially record high temperatures will continue through midweek in southern Texas and much of the Gulf Coast. Storms producing damaging winds, hail and possibly tornadoes could hit the lower Mississippi Valley.
"If you have outdoor projects, this #Fathers Day, remember to practice thermal safety! Take frequent breaks, stay hydrated, NEVER leave people/pets alone in a car! the Houston Weather Service office said the Twitter.
Louisiana Governor John Bel Edwards declared a state of emergency for his state's north and central areas after high winds and extreme weather caused widespread power outages on Saturday. As of Sunday, more than 740,000 people were without power in Oklahoma, Texas, Louisiana, Arkansas and Mississippi, according to PowerOutage.us.
About 30 people spent Saturday night at a cooling center in Shreveport, Louisiana. Residents were grateful to have a place to get out of the sweltering heat, said Madison Poche, director of the nonprofit Highland Center, which opened its doors to anyone who needed a place to cool off.
"We've definitely had a few people in tears because people have been stuck in pretty hot spaces and really just need space to be physically comfortable for a while," Poche said. She added that storm damage appears to be widespread in Shreveport.
In Florida, the Weather Service issued another heat advisory on Sunday, this time primarily for the Florida Keys. Forecasters said heat index readings – the combination of high temperatures and oppressive humidity – could reach between 108 degrees Fahrenheit (42 degrees Celsius) and 112 degrees (45 degrees C) in places such as Key Largo, Marathon and Key West.
"These conditions will result in an increased risk of heat illness for people outdoors or in unconditioned spaces," the weather service said in a statement.
In the Southwest, where fire crews are battling multiple wildfires in Arizona and New Mexico, forecasters said triple-digit temperatures and gusty winds will lead to critical blazes over the next two days. Sunday promised to be the hottest day of the year in Arizona, with highs of up to 110 degrees (43.5 C) in Phoenix.
Winds were forecast to be 30 to 40 mph (48-64 kph) Sunday east of Flagstaff, Arizona along the Interstate 40 corridor and up to 50 mph (80 kph) Monday, creating potentially critical fire weather across much of the northeast. New Mexico.
A large brush fire that started Friday afternoon south of Tucson, Arizona closed a state highway on Saturday. Arizona 83 reopened on Sunday and no homes were in immediate danger, authorities said.
The extended closure has taken a toll on local businesses over what is usually a busy Father's Day weekend in an area with recreational lakes and reservoirs.
Dena Proez said the only business at her Corner Scoop ice cream shop along the freeway in Sonoita was serving a few travelers who stopped by to get updates on the fire "and feed all the firefighters."
Much of Nevada was under a severe wind advisory with gusts of up to 88 km/h (55 mph) with blowing dust that could hamper visibility on highways, the weather service said.
Associated Press writers Kim Chandler in Montgomery, Alabama; Curt Anderson in St. Petersburg, Florida; and Christopher Weber in Los Angeles contributed to this report.