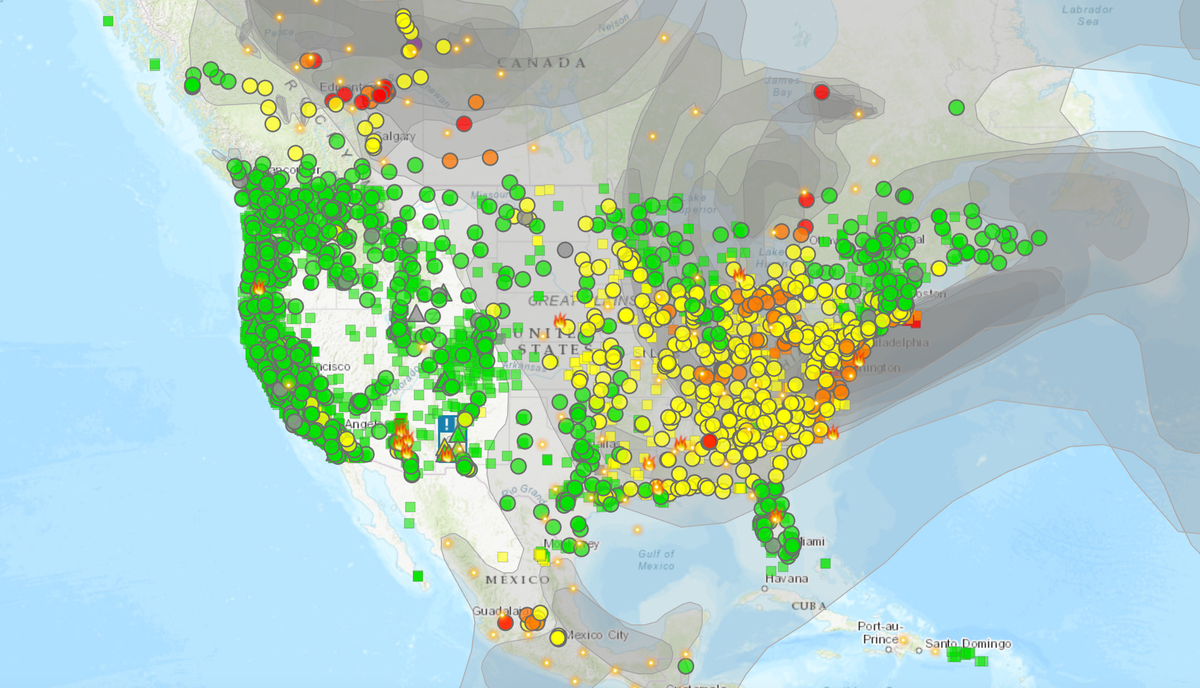 Northeastern United States fighting thick smoke of 400 wildfires raging across Canada that have burned more than 6 million acres and led to mass evacuations.
Smoke darkened skies and made it hard to breathe in at least half a dozen states, including major cities like New York, Toronto, Ottawa, Washington DC and Philadelphia and large parts of Canada.
In areas with "unhealthy" air pollution levels, public health officials were advising people to stay indoors and wear masks if outdoors.
Live: New York's Central Park darkened by haze from Canada's wildfires
Vulnerable populations, including children, the elderly, and people with underlying conditions, such as asthma and heart disease, should especially heed the warnings.
And it's far from over: Canadian officials have warned that this could be the country's worst wildfire season on record.
Which states and cities are affected by the smoke?
At least 20 US states have air quality alerts issued in places, impacting about 115 million people.
Among the hardest hit locations were major cities like New York, Washington DC, Philadelphia, Detroit, Harrisburg and New Haven.
As of Thursday (June 8) at 10 a.m. local time, New York City's Air Quality Index (AQI) – used by officials to measure air pollution – was around 200 , going from "unsafe" to "unhealthy" conditions.
New York was ranked number one for the worst air quality in the world on Wednesday afternoon June 7. At one point, the AQI reached over 350, on a scale of 0 to 500, reaching "dangerous" levels.
A sign of the extreme conditions, New Delhi – a city where people live under the threat of heavy air pollution for much of the year – was in second place with an AQI of 190.
Although conditions improved on Thursday, all people, especially vulnerable populations, were still advised to limit outdoor activities.
The Federal Aviation Administration has delayed flights to Newark Liberty International Airport in New Jersey and LaGuardia Airport due to smoky conditions.
In which direction is the smoke moving?
Heavy smoke continued to push south from Canada towards the east coast on Thursday morning, with the worst AQI moving from New York to Philadelphia and Washington DC.
A "persistent" low pressure system to the north in the Northeast near Maine, combined with the wildfires, has produced a "huge amount of smoke" in the Northeast, Mid-Atlantic and North Valleys. Ohio, according to the National Weather Service.
The smoke spread to the Carolinas, causing aerial advisories.
In New York City, unhealthy levels of air pollution are expected to last through Thursday with air quality alerts in effect until midnight Saturday.
Smoky conditions are expected to start dissipating over the weekend as winds push it further northwest.
At a press conference on Wednesday afternoon, New York Governor Kathy Hochul warned that the cloud of smoke was moving west.
"We expect over the next two days they will head west," she said.
The fires have been burning for weeks. Why is there smoke now?
The fires in the province of Quebec started last weekend and the blazes in Nova Scotia, on the Atlantic coast, started last month.
A storm system off the east coast of Canada is pushing smoke south over the United States. This weather pattern is expected to continue at least through the weekend.
The National Weather Service said that while Canada's wildfires remain "large, uncontained and active, they will likely continue to generate smoke."
"So at least in the next week or two, a lot will be determined by the direction of the wind and where it's causing the smoke to spread," the agency added.
The weather pattern will remain substantially the same throughout this weekend. A locked low pressure system near Maine and the Canadian Maritime province means northerly winds from the fires in Quebec will direct smoke to parts of the east coast, NWS noted.
This article is being updated