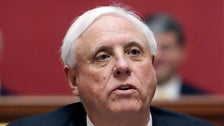 The Justice Department on Tuesday filed a lawsuit against West Virginia Gov. Jim Justice's coal empire for more than $5 million in unpaid fines related to health, safety violations and the environment.
THE civil action names as defendants 13 of the Justice family coal companies — based in West Virginia, Virginia, Delaware and Tennessee — and the governor's son, James Justice III.
"Defendants were cited for more than 130 violations and failed to pay more than $5 million in civil penalties assessed by the Office of Surface Mines Reclamation and Enforcement," the lawsuit states. 128 pages, adding that the Justice family businesses also owe more than $190,000. in costs related to abandoned mining lands.
The billionaire Republican governor, who has just launched a campaign for the Senate seat held by conservative Democratic Senator Joe Manchin in West Virginia, did not immediately respond to a request for comment.
The civil penalties issued by the Department of the Interior relate to violations from 2018 to 2022. They include failure to ensure the seismic stability of a dam, illegal discharges outside the authorization zone, failure to stabilize surfaces to control erosion and a failure to ensure revegetation is compatible with the natural environment of the area.
Justice Coal Empire has been cited for numerous other security breaches. In 2020, a ProPublica Survey found that over the past three decades, his companies had been involved in more than 600 lawsuits and paid $128 million in judgments and settlements.