A month is not enough time to cover the story and impact of the millions of people who identify as AAPI. There are 20.6 million people in the United States who identify as AAPI— over 6% of the total population, and their cultures, contributions and challenges deserve recognition.
What is AAPI Heritage Month?
Asian American and Pacific Islander Heritage Month (or AAPI Heritage Month) celebrates people in the United States who are of

Asian, Pacific Islander, and Hawaiian ancestry.

The generic term AAPI includes cultures

from the entire Asian continent – including East, Southeast and South Asia – and the Pacific islands of Melanesia, Micronesia and Polynesia. (History).

There is not a single story of the AAPI experience but rather a

multitude of heritages and cultures continuously cultivated

constituting a tapestry of diverse experiences and stories.

Many members of the AAPI community also see this month of May as a chance to

to raise awareness

on the unique challenges facing the AAPI community.
How AAPI Heritage Month Began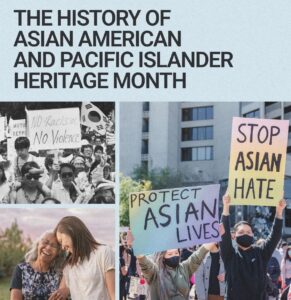 AAPI Heritage Month began as a week of celebration of Asian American and Pacific Islander people and culture under President Jimmy Carter in 1978. It was extended to a month-long celebration in the 1990s.
The month of May was chosen for commemorate both the first Japanese immigration to the United States, which took place in 1843, and the completion in 1869 of the transcontinental railway, a project that owes its success to the many Chinese, Japanese and Korean workers who worked there.
By the 1970s, other heritage weeks and celebrations were already officially observed in the United States. Between the civil rights movement and the countless other movements for social justice, there was a growing pressure for the government to recognize the rights of minority groups in the United States, celebrate their cultures and ensure their well-being.
Representatives Frank Horton and Norman Mineta, along with Senator Daniel Inouye, introduced the idea of ​​an AAPI Heritage Week to Congress in 1977, but both resolutions initially failed. It took another year for the resolution to pass.
Jeanie Jew was the congressman who first brought the idea to Rep. Horton, after witnessing the lack of Asian representation at the country's bicentennial celebrations in 1976 and drawing on his own family history of an ancestor who was killed in the destruction of San Jose's Chinatown in 1887.
Activists and leaders of the movement have raised valid critiques of AAPI Heritage Month.
Some have pointed out that AAPI Heritage Month does little to advance the interests of the community as do other heritage months. While striving to celebrate these cultures, AAPI Heritage Month can have a symbolic effect, as the collapse of Asian Americans, Native Hawaiians and Pacific Islanders into one group fails to articulate and respond to the magnitude of complexity and concerns of each individual group.
Many activist groups and opinion leaders are urging the general public to participate in the celebration and recognition of AAPI peoples and cultures in a way that extends well beyond the month of May and in doing so, avoid making short-term tokens of AAPI people in our communities.
Some Ways to Celebrate AAPI Heritage Month
This year's theme is "Advancing Leaders Through Opportunity", as chosen by the Federal Asian Pacific American Council– a nonprofit organization that supports the interests of Asian Americans, Native Hawaiians, and Pacific Islanders in the federal and DC governments. Here are some ways to participate in AAPI Heritage Month events to honor and celebrate AAPI culture:
To be involved

with the #StopAAPIHate movement by

follow training courses for spectators.

Plead for

Local AAPI rights.

Support

Creators of AAPI.

Support entrepreneurs in

shopping and eating at local AAPI stores and restaurants.

Understand that

AAPI people are not a monolith.

There are countless unique traditions, cultures and experiences that make up the AAPI community.