MBW Views is a series of opinion pieces written by prominent figures in the music industry…with something to say. The following comes from Mark Davyd (pictured), the CEO of Music Venue Trust – a UK registered charity which works to protect, secure and improve grassroots music venues in the UK. This piece originally appeared on Davyd's Sub-stack.
---
I spent the last week in Liverpool, a city that threw itself behind Eurovision with the sort of enthusiasm you usually see at an eight-year-old Mexican's birthday party around the time when he starts hitting the pinata.
It could all potentially be a bit too much, with music literally blasting out of every door, window, bar, restaurant, and library. But somehow this city has managed to deliver something that is genuinely heartwarming, inclusive and truly representative of the whole musical history that has made Liverpool a leading city for music, all keeping Eurovision fans happy. Honestly, the whole place is buzzing with music and it's just an amazing time to be there and be a part of it.
But. You knew there would be a "but", right?
Slap bang in the middle of this joyous music festival stands a huge billboard featuring Sam Ryder, the one in the hair and the spacesuit.
Now it might surprise you to learn that I have a soft spot for Sam. What you might not know is that before the pandemic Sam was working towards early baldness himself by trying all the avenues available to him to build a career as a musician.
Sam got his start as a singer and guitarist at 16 when he co-founded the band The Morning After, releasing two albums.
After The Morning After split, he joined Canadian rock band Blessed by a Broken Heart and contributed to their album Feel the Power. He split from the band in 2013, auditioned to become the new lead singer for American rock band Close Your Eyes and contributed to their album. line in the sand.
In 2016 Sam recorded an album with producer Bryan Wilson in Nashville, Tennessee, although it was never released.
In 2019, he was working as a wedding singer.
It was his road so far; at the age of 30, having tried just about everything, Sam was singing for his supper while the brides were carried away by the grooms. Then the pandemic arrived and everything changed for him.
If you know this whole story, then you know that someone like Sam doesn't happen overnight. He's not an instant Internet sensation. He's someone who's worked incredibly hard to get where he is and has earned and deserves the success he's found.
Which leaves me wondering why there's a 60ft tall poster in the center of Liverpool with the Tik Tok logo proudly proclaiming 'Where Stars Get Started' featuring Sam Ryder.
I thought about reporting it to the advertising standards agency, but they've had enough of my phone calls on tech platforms posing as music companies.
---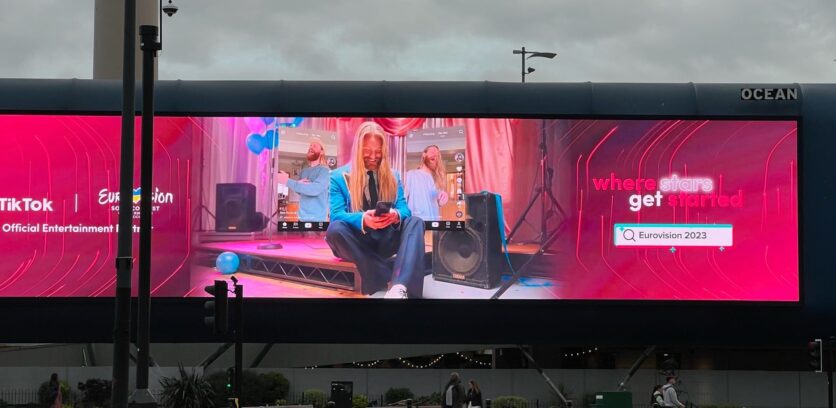 ---
We're going to have to recalibrate all the ridiculous claims made about how we're supposed to "create" artists on these platforms.
Because TikTok didn't develop Sam's gaming skills. TikTok didn't teach Sam how to write great songs. TikTok hasn't taught him how to captivate and manage an audience of people. TikTok didn't even help to style it.
TikTok provided him with a platform to get his name out there — in Sam's case, especially during the pandemic when his talent really got a chance to shine on the platform provided by TikTok. I bet Sam is super grateful for that, and probably got paid pretty well for the oversized use of his image.
But that doesn't make the claim that TikTok is "Where Sam Ryder Began" any less misleading or misleading.
---
Companies like TikTok depend, like all other parts of the music industry – and increasingly the tech exploiters in that industry (I'm looking at you Spotify) – on a simple business in which none of them seems willing to invest in Their business.
At the age of 11, Sam Ryder was inspired to pursue a career in music after seeing Canadian rock band Sum 41 in concert. In the simplest cultural terms, he had the opportunity to see it and he decided to be.
There are currently thousands of young people in the UK who could be TikTok's next Sam Ryder. But they won't. Because their local hall, the place where they could have seen it and decided to "try to be that", closed this week. And we could have stopped it from closing with 10% of the money TikTok spent on a poster in the middle of Liverpool claiming to create artists.
That's 0.001% of the money Spotify gave FC Barcelona to put their names on players' shirts.
Something is going to have to give in this facade. We can't keep pretending that all will be well for the live music industry by letting TikTok, or Spotify, or YouTube tell us that success on their platforms equates to long-term successful artists with foundations of fans who can support the live music business.
It's a fool's game to put all our eggs in the basket on these untested platforms hoping artists will miraculously emerge and start headlining Glastonbury.
Live music is a data set. Anyone who books an unproven artist to headline a major festival, an artist who has yet to prove themselves with ticket sales, not clicks, is taking a huge risk with their wallet.
---
No number of clicks "created" Sam Ryder. He created himself. With hundreds of gigs, years of hard work, with the support of an infrastructure collapsing around us while the tech platforms sit there chanting "everything is fine".
We need to start demanding that money that should be invested in the future of music not be wasted on billboard campaigns that tell audiences a shamefully misleading story about how artists are "created".The music industry around the world