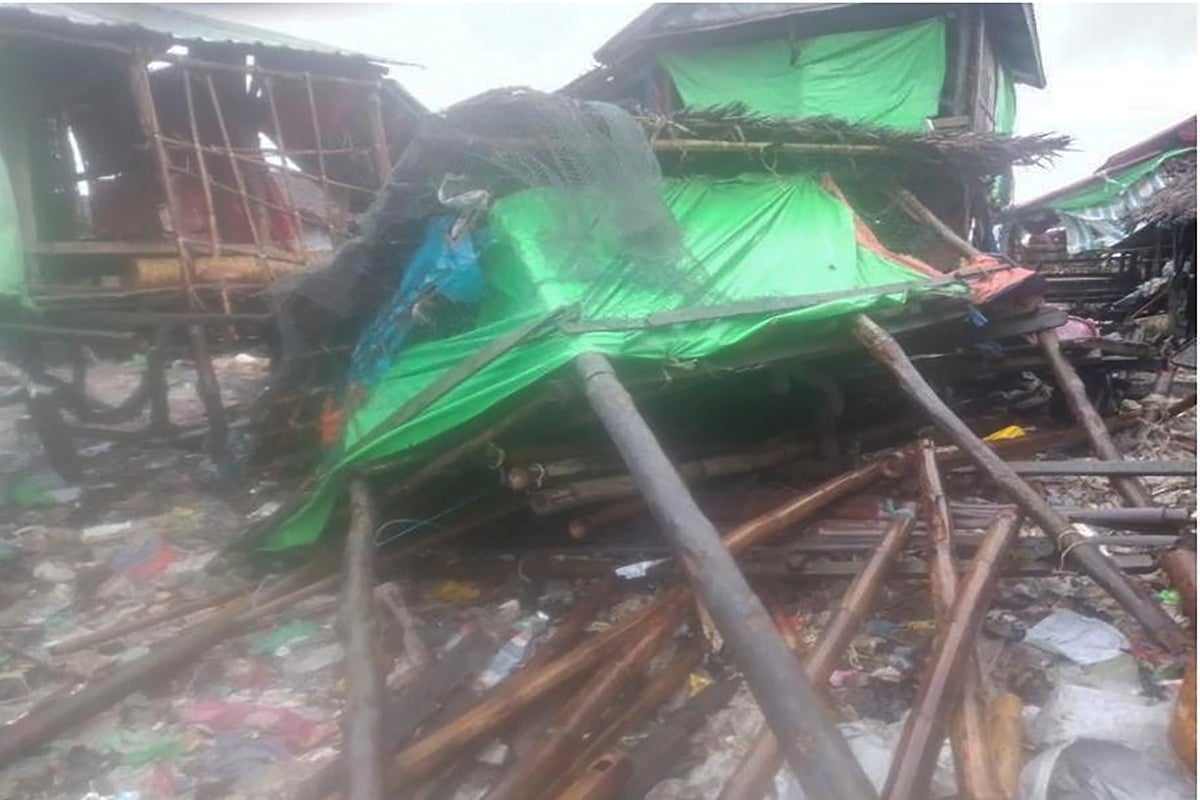 At least five people have died and more than 700 injured after powerful Tropical Cyclone Mocha made landfall in Myanmar on Sunday, flooding roads, destroying homes and knocking down communication towers.
Mocha, one of the most powerful storms to hit Myanmar in years, had winds of up to 209 km/h and brought heavy rains to western parts of one of the least developed countries from Asia.
So far, five deaths have been reported by local media, with more than 700 injured. But the true extent of the damage is not yet known in the country ruled by the junta.
Reuters reported that 20,000 people were taking refuge in monasteries, pagodas and schools in the city's highlands, citing a leader of the Rakhine Youth Philanthropic Association in Sittwe town, who declined to be appointed for fear of reprisals from the authorities.
The volunteers said there was not enough food in the shelters. Myanmar state television reported that the military government was preparing to send food, medicine and medical personnel to the storm-hit area.
Injuries were also reported on the neighboring island of Saint Martin in Bangladesh, which was largely spared the cyclone amid fears it could directly hit the world's largest refugee camp in Cox's Bazar.
Around 300 houses were also damaged or destroyed in western Bangladesh.
The cyclone had already weakened into a very severe cyclonic storm when it made landfall and as of Monday morning it was a severe cyclonic storm.
The United Nations Development Program representative in Myanmar, Titon Mitra, tweeted that Moka was putting two million people at risk and the damage and casualties were expected to be extensive.
Experts have raised concerns about a humanitarian disaster as Rakhine State, where the cyclone hit hardest, is a conflict zone and already has around 6 million people in need of humanitarian assistance living in within its borders.
"The needs in Myanmar are enormous. Rakhine was already a poverty-stricken state before the powerful Cyclone Mocha struck. The impact of this cyclone will be very significant in Myanmar's Rakhine State due to the existing conflict and the extremely poor socio-economic conditions of the people of Rakhine State," said Sharif Ahmed, Program Manager of Islamic Relief for Myanmar and Bangladesh.
"Poverty is very high and that is the main reason why this storm will have such a destructive impact on these people and their lives."
The weakening cyclone was expected to hit northwest Chin state and central regions on Monday.
Meanwhile, the Indian Meteorological Department (IMD) had issued an "orange alert" for heavy rain in parts of northeast India.
According to experts, there has been a substantial increase in cyclone activity in South Asian waters linked to rising ocean temperatures.
Warming oceans have resulted in higher evaporation and increased availability of moisture due to global warming. Experts have said that cyclones can now retain their energy for several days and wreak considerable havoc.
"Weather conditions in the ocean are very favorable for a rapid intensification of the system," said Roxy Mathew Koll, a climatologist at the Indian Institute of Tropical Meteorology and lead author of the IPCC.
"Today's cyclones can retain their energy for quite a long number of days. An example of this trend was Cyclone Amphan which continued to smash through the earth as a powerful cyclone and caused massive devastation. .
"As long as the oceans are warm and the winds are favorable, cyclones will maintain their intensity longer."
Tropical cyclones are one of the most devastating natural disasters, having claimed the lives of more than half a million people worldwide over the past five decades.
The Indian Ocean region, including the Arabian Sea and the Bay of Bengal, is of particular concern due to the high population density along its coasts.
Cyclone Nargis hit Myanmar in 2008 with a storm surge that devastated populated areas around the Irrawaddy River delta, killing at least 138,000 people.