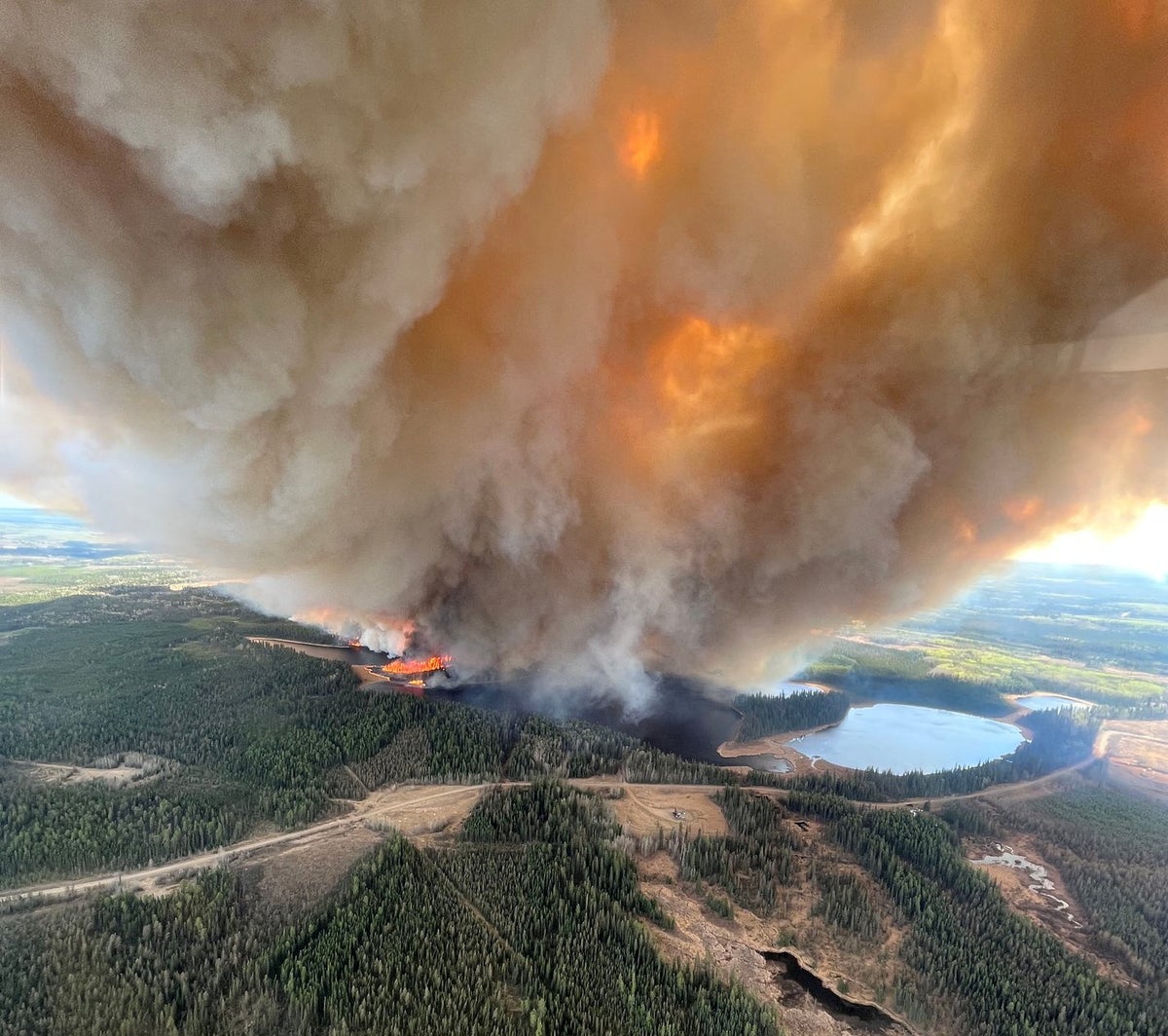 Raging wildfires in Alberta have forced the Canadian province to announce a state of emergency, forcing 25,000 people to flee their homes due to the out-of-control blazes.
Huge wildfires, fanned by strong dry winds, rose to around 110 on Sunday from 78 earlier on Saturday. About 37 of them have been classified as out of control, according to the Alberta government.
Describing it as an "unprecedented crisis," Alberta Premier Danielle Smith said, "This is a rapidly changing situation.
"We have declared a provincial state of emergency to protect the safety, health and well-being of Albertans," she said at a press conference on Saturday evening after a meeting with the government's committee of emergency management.
Videos on social media showed a huge fire engulfing farmhouses as firefighting helicopters and air tankers worked to control the blaze. It showed farmers racing to evacuate their livestock, driving them to safer places.
In northern Alberta near Fox Lake, 20 homes, the police station, a store and the sewage treatment plant were engulfed in fire, authorities said.
The wildfire has been classified as out of control and covers around 16,390 hectares, he said, adding that the community has been fully evacuated.
Communities under evacuation orders include Athabasca, Big Lakes, Brazeau, Grande Prairie and Yellowhead counties and the city of Edson, officials said Saturday afternoon.
Others were ordered to remain ready "to evacuate on short notice".
Alberta is one of the main oil producing regions of the country. Almost all of Alberta and the neighboring province of Saskatchewan face an extreme risk of wildfires.
Early springs in Alberta often tend to be a dangerous time for wildfires, but the intensity and size of wildfires have increased in the western United States and neighboring regions.
Studies and research have suggested that hot, dry weather linked to global warming has contributed to the intensification of these wildfires.
Ms Smith said earlier this week that the province "had a hot, dry spring and with so much ignition, it only takes a few sparks to start some really scary wildfires."
"These conditions have resulted in the unprecedented situation our province faces today," she said.
She said around 20 communities had been evacuated and at least 122,000 hectares (301,000 acres) had been burned so far.
"That's a lot more wildfire activity, for this time of year, than we've certainly seen at any time in the recent past," unit manager Christie Tucker told reporters. information for Alberta Wildfire.
She said 200 additional firefighters have been deployed and are "working around the clock" across the province over the next three days.
Oil facilities in the area are being closely monitored, but none have reported any disruptions.
"The focus right now is on protecting human life," said Mike Ellis, provincial minister of public safety and emergency services.
In neighboring British Columbia, rivers are bursting their banks and flowing through homes as unseasonably warm weather has melted the snowpack at a faster rate. It caused flooding and landslides, with a number of flood warnings issued early on Saturday.