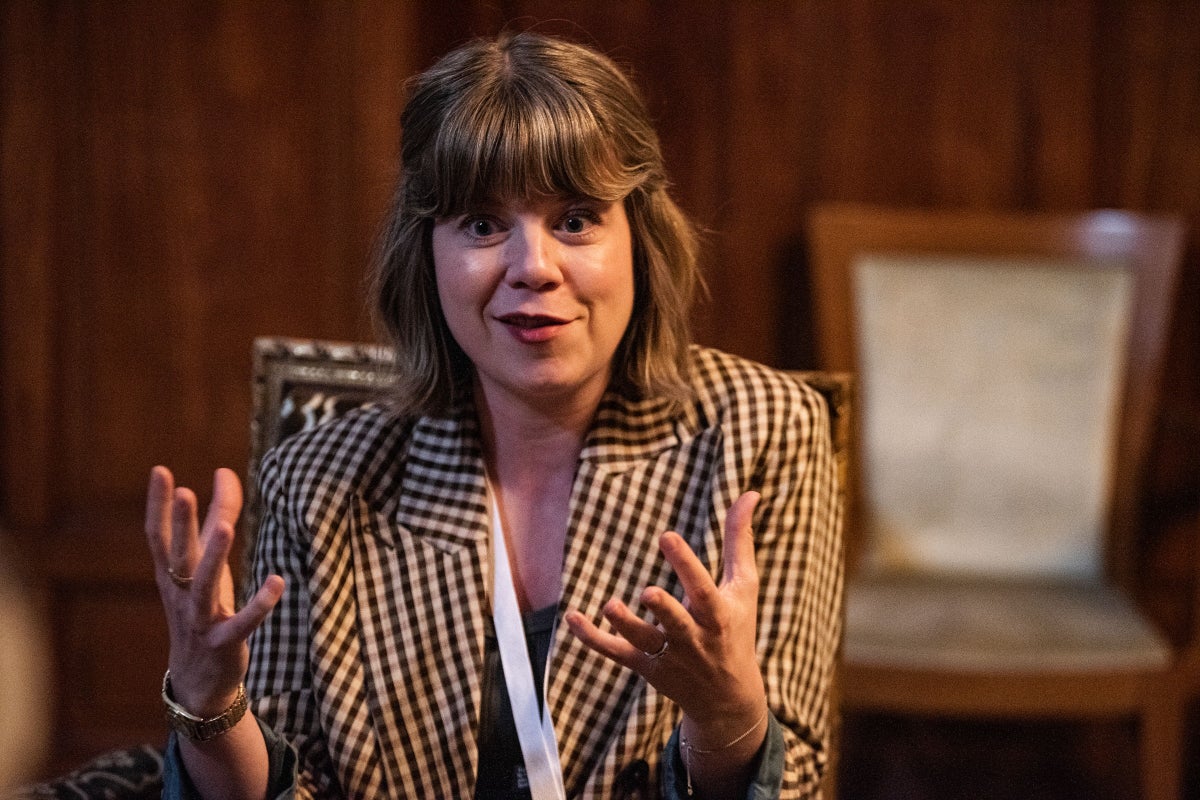 Children and young people need to find a "Goldilocks" level of anxiety about coping with climate change, where it doesn't harm their mental health but still motivates them to act, an expert says.
Young people have often been told that emotions like anxiety or depression are bad, but these are actually very reasonable feelings in the face of the climate crisis, explained Dr Britt Wray, from Stanford University in the United States. United.
She said children should learn to manage their emotions in the face of the threat of climate change, and that should start in the classroom.
Speaking at the Frontiers Forum in Switzerland, Dr Wray told the PA news agency: 'As researchers, we're looking for this kind of 'Goldilocks' level of climate anxiety.
"It's like how can we get not too much but not too little, where we can harness its potential to increase people's sense of agency to go out and do something bold to be part of the movement, but without harming to their sanity?"
She added: 'We should be teaching them (students) about climate and environmental science with trauma in mind.
"Which means in an accompanied way with learning modules and interventions that can help them process and be supported in the difficult emotions that often follow learning about climate change, so that students are not alone in their distress, be validated in their concerns, and can also be brought into conversations about active hope and solutions, not just describing the problem, as can often happen and make eco-anxiety more difficult to manage.
In 2021, the term eco-anxiety made its way into the new edition of the Oxford English Dictionary to describe unease or apprehension about current and future damage to the environment.
Research suggests that young people around the world are feeling a growing sense of fear and distress related to climate concerns.
This could lead to anxiety, depression, suicidal thoughts and some even wondering whether or not they want to have children in the current climate.
However, Dr Britt, a mental health and climate change researcher, explained that there are a number of factors that could help young people achieve balance.
She told PA that finding like-minded people can help validate people's feelings and make them feel less alone.
"It certainly helps to get people to that 'Goldilocks' state where they can manage it and then ideally channel it into pro-environmental actions," Dr Britt explained.
She continued, "People need to be able to do three things – they need to be able to take action that is an expression of their values ​​and ways to get into agency so that they fight that feeling of powerlessness and helplessness.
"But they also need to know how to regulate difficult emotions – the big scary emotions that most of us have been taught to think about are somehow bad.
"If we feel anxiety or depression or whatever, we can judge ourselves for feeling it, but in fact, those emotions are perfectly reasonable to feel in this situation."
According to the researcher, a number of different tools can help young people manage these feelings, including mindfulness, meditation, spending time in nature, or talking to climate-sensitive therapists.
Dr Britt said: 'It's about finding ways to engage with the climate crisis, but not taking on too much and knowing that it's important to be able to take breaks so you can focus on all the other interesting things in life and being joyful. ."
Data released by the Office for National Statistics last year suggests around a quarter (74%) of people aged 16 and over in Britain said they were worried about climate change.
According to the Opinions and Lifestyle Survey conducted between September 14 and October 9, climate change was the second most important concern for adults in Britain (74%), with the rising cost of living being the main concern (79% ).
While a study published in The Lancet surveyed 10,000 children and young people (aged 16-25) across 10 countries – Australia, Brazil, Finland, France, India, Nigeria, Philippines, Portugal, UK and United.
It revealed that eco-anxiety was not limited to the wealthy in the West, with 59% saying they were very or extremely worried and 84% at least moderately worried. More than 50% reported each of the following emotions: sad, anxious, angry, helpless, helpless, and guilty.
Some institutions in the UK have already started offering mindfulness courses to help ease their students' eco-anxiety.
In October last year, the University of East Anglia (UEA) announced that it was launching a six-session course, one per week and lasting two hours each.