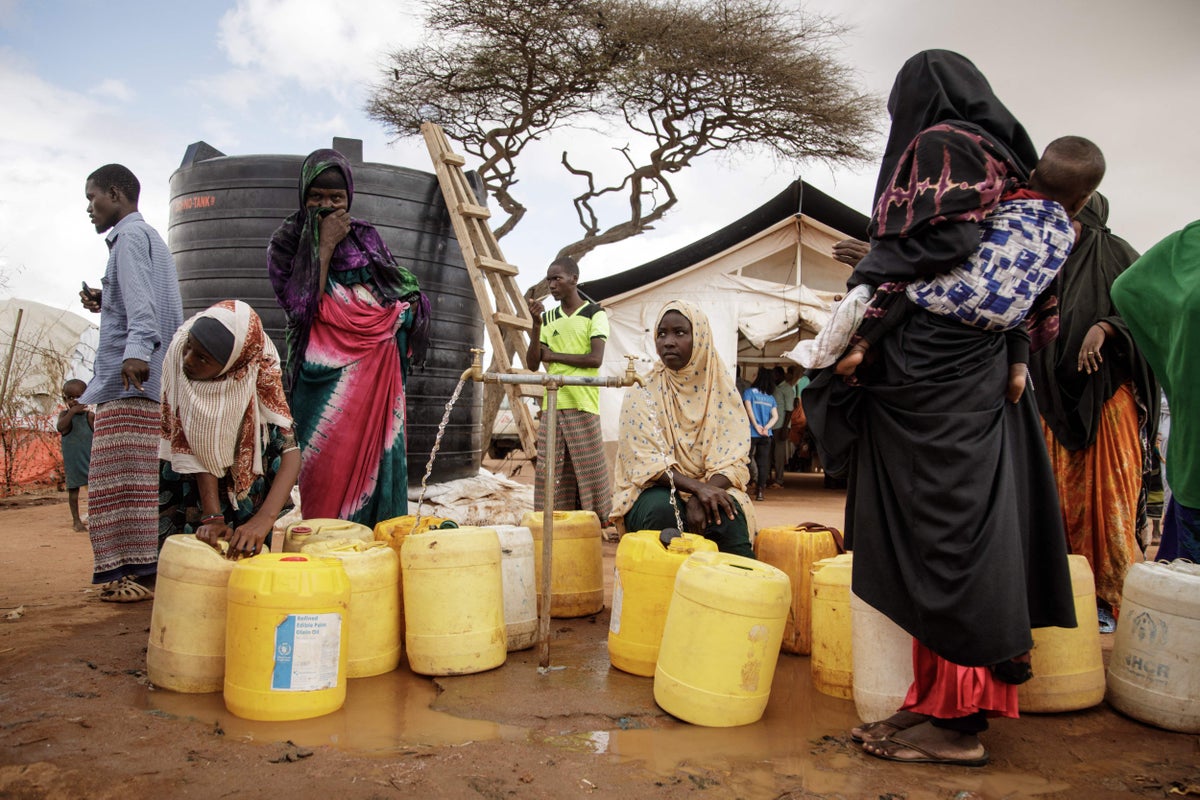 Drought in the Horn of Africa is now around 100 times more likely to occur due to the man-made climate crisis, according to a study published on Thursday.
The region, comprising Somalia, Ethiopia and Kenya, is facing its worst drought in four decades.
More than 43,000 people died in Somalia alone last year due to these conditions, with half of the deaths being children under the age of five. Some 36.4 million people are currently at risk of starvation.
The rainy season, critical for the survival of these mainly agricultural and pastoral communities, has failed over the past five years.
Sheikh Kane, of the Red Cross and Red Crescent charity Climate Centre, described it as "a humanitarian catastrophe".
The study, from the international research group World Weather Attribution (WWA), found that climate change has made dry soils much more likely in the Horn of Africa, leading to drought.
And the drought wouldn't have been so bad without the impacts of greenhouse gas emissions, said WWA, a collective of scientists who assess the role of climate behind extreme events.
Without climate impacts, conditions in the region would be "abnormally dry", according to the study.
Rising global heat is causing agricultural drought in the Horn of Africa. The hotter conditions are evaporating moisture from the soil, decimating crops and pastures in a region where more than half the population depends directly or indirectly on agriculture and livestock for a living.
Although the climate crisis has made drought more frequent and extreme, it adds to other vulnerabilities, such as conflicts in the region, political instability and poverty.
"The results of this study show that frequent droughts over several years, combined with extreme heat, during the main rainy season, will have serious impacts on food security and human health in the Horn of Africa as the climate continues to warm," said Joyce Kimutai, Senior Director. meteorologist and climatologist in the meteorological department of the Kenyan government.
The research was conducted by analyzing weather data and models to understand the impact on droughts if the world had not warmed by 1.2 degrees Celsius over the past 150 years.
The researchers found that the region's rainy season, between March and May, is about twice as likely to have less rainfall due to climate change.
On the other hand, October to December now sees more rain disrupting the agricultural pattern of the region.
The WWA team says the Horn of Africa must be made more resilient to future severe droughts using both new technologies and traditional knowledge.
"This study shows very clearly that drought is much more than just the lack of rain and that the impacts of climate change are highly dependent on our vulnerability," said Friederike Otto, senior lecturer in climate science at Imperial College of London. London.
"And one of the main conclusions of the recently published IPCC summary report is that we are much more vulnerable than we thought."