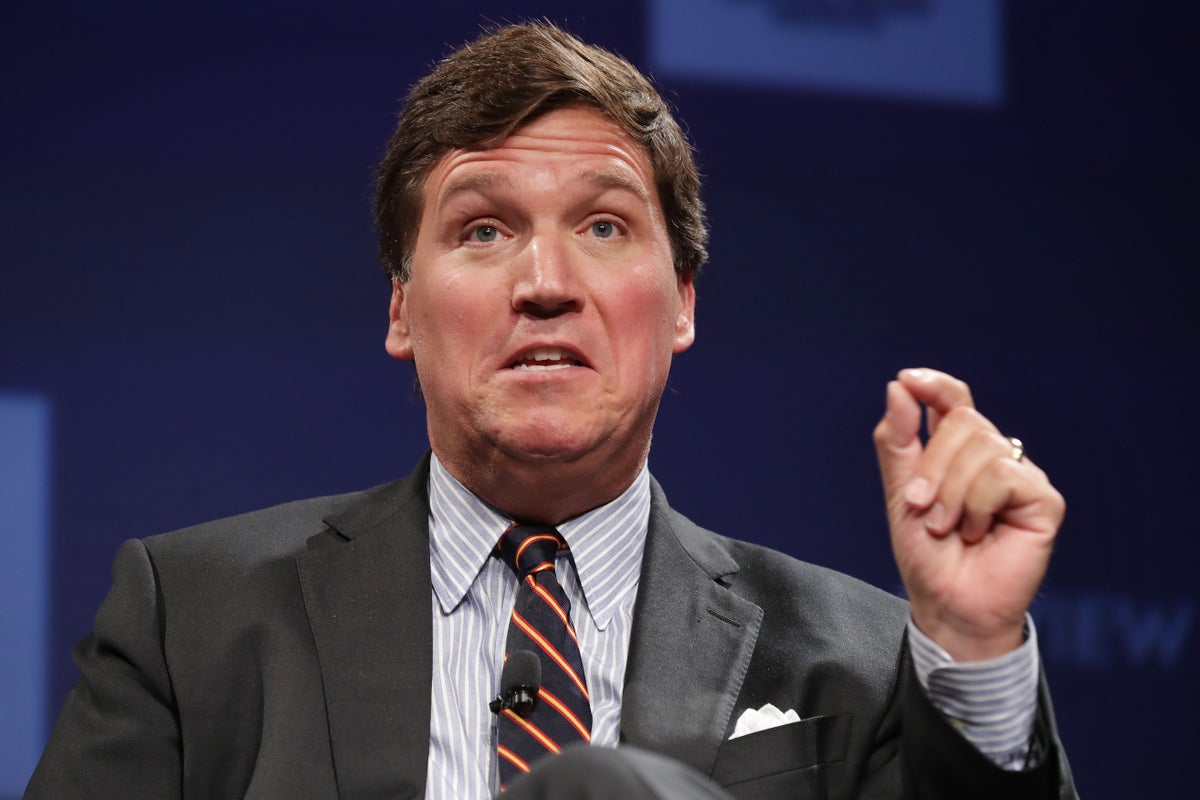 The lies about the legitimacy of the 2020 presidential election seem to be what finally finished off Tucker Carlson at Fox News. But the TV showman was also a disinformation opportunist.
Carlson was fired Monday, days after Fox agreed to pay $787.5 million to settle a libel lawsuit with Dominion Voting Systems over false election claims.
"Fox News Media and Tucker Carlson have agreed to part ways. We thank him for his service to the network as a host and prior to that as a contributor," read a statement from the network. Carlson reportedly found out Monday morning that would be replaced in its prime-time slot that night.
It was an abrupt and unexpected end for Carlson who became Fox News' biggest star alongside the rise of Donald Trump for his drive to hit the third rail of right-wing extremist views.
No topic was off limits to wild and unsubstantiated allegations, including election voting machines, Covid vaccines, migrants, protesters for racial justice, abortion rights and gun control.
Carlson will also be remembered as one of the most prolific spreaders of disinformation about the climate crisis in recent memory.
"Will get lost amid the noise of his sudden departure, but it shouldn't be forgotten that Tucker Carlson has been one of the worst disseminators of climate change misinformation, conspiracy theories and lies over the past decade in the American media, Leo Hickman, editor of climate-focused publication Carbon Brief, tweeted.
Tucker Carlson tonight was a hotbed of talking points about the fossil fuel industry, outlandish conspiracy theories and monologues interspersed with racist, misogynistic, xenophobic and homophobic material.
He claimed that the "The existence of winter refutes the science of climate change"; called climate science a "state religion"; said scientists and activists are "bullying" people like him and "hate the Earth…hate nature."
According New York Times analysisCarlson's most fundamental alarmist trope was "You versus them", a notion he also used on climate topics.
In July 2021, for example, he claimed that Texas power companies were automatically raising the temperature on residents' thermostats during a heat wave without permission. "Courting! It's not scary or anything," he told his viewers.
(In fact, the Texas Smart Thermostat Energy Savings Program has been around for 20 years, and customers choose to enroll in the program in exchange for rebates, fact-check site Policy reported.)
While often scientifically and factually inconsistent, the segments played well with its older, white, and conservative audience by deploying themes such as government overreach, tax hikes, liberal elites, and globalism.
"Tucker Carlson and other hosts of Fox News have been prolific and influential spreaders of climate disinformation," said Dr John Cook, senior fellow at the Melbourne School of Psychological Science and disinformation expert. The Independent by email.
"The problem is there is no climate version of Dominion to hold them accountable for misleading the public about climate change.
"Instead, it is the public and the environment who will pay the price for delayed climate action due to misinformation, in the years and decades to come."
Perhaps most tragic of all is that there are serious doubts that Carlson believed a word of it.
The discovery process of the Dominion lawsuit revealed a glut of text messages and emails from Carlson that exposed him as dismissive of stories he presented to his audience as "truth".
But his prime-time show sharply used exhaustive "minute-by-minute" viewership data, The New York Times recently reported, to keep tabs on what prompted people to tune in.
The Independent contacted Carlson's attorney, Bryan Freedman, for comment.
Outright climate change denial has become a tougher sell in recent years as Americans experience deadlier heat waves, wildfires, hurricanes, droughts and floods.
Thus, climate misinformation has transformed, becoming more insidious and designed to confuse people with feelings of desperation, cynicism and mistrust.
"The misinformation arguments are that people can't trust scientists, can't trust models, can't trust climate data. This is to sow doubt and undermine public confidence in climate science," Dr Cook previously said. The Independent .
Half of American adults now describe climate change as a major threat to the country, according to recent Pew polls, but a deep political divide remains. The number of Democrats who see climate change as a major threat has risen to 78% over the past decade, while Republicans remain stuck at 23%.
But young people – the viewers most sought after by advertisers – are more likely than older adults to want to take action on environmental and climate issues, Pew also found out.
In the wake of the Dominion settlement, Fox News does not appear to be a network particularly ready to change course.
"We recognize that the Court's decisions have found certain assertions about Dominion to be untrue," the network said in a statement.
"This settlement reflects Fox's continued commitment to the highest journalistic standards."
Dr. Michael Mann, one of America's leading climate scientists and director of the Penn Center for Science, Sustainability and the Media, described Carlson as "one of the worst disseminators of climate change denial and misinformation", but also issued a warning.
"Unfortunately, however, he will almost certainly be replaced by someone just as bad," he said. The Independentin an email.
"The real problem is Rupert Murdoch and his ties to a bad oil state, bad actors, like Saudi Arabia. Until this larger problem is resolved, we can expect more of the same thing.