The price of Ethereum (ETH), the second largest cryptocurrency, drops days after Shanghai's highly anticipated upgrade.
Although the trading and cryptocurrency community has been eagerly awaiting the update, prices are dipping and falling below the $2,000 level even after the update improved network performance.
The Crypto Market Remains Bearish
Ethereum is currently trading at $1,848.00 and is down 4% in the past 24 hours.
Since last week, ETH, like the whole market, has gone down. The coin is now down 11% from recent highs recorded after the Shanghai upgrade, quashing traders' initial optimism about the second most valuable cryptocurrency.
At this rate, users are wondering about the strength of the uptrend and whether the bulls will return, pushing prices higher.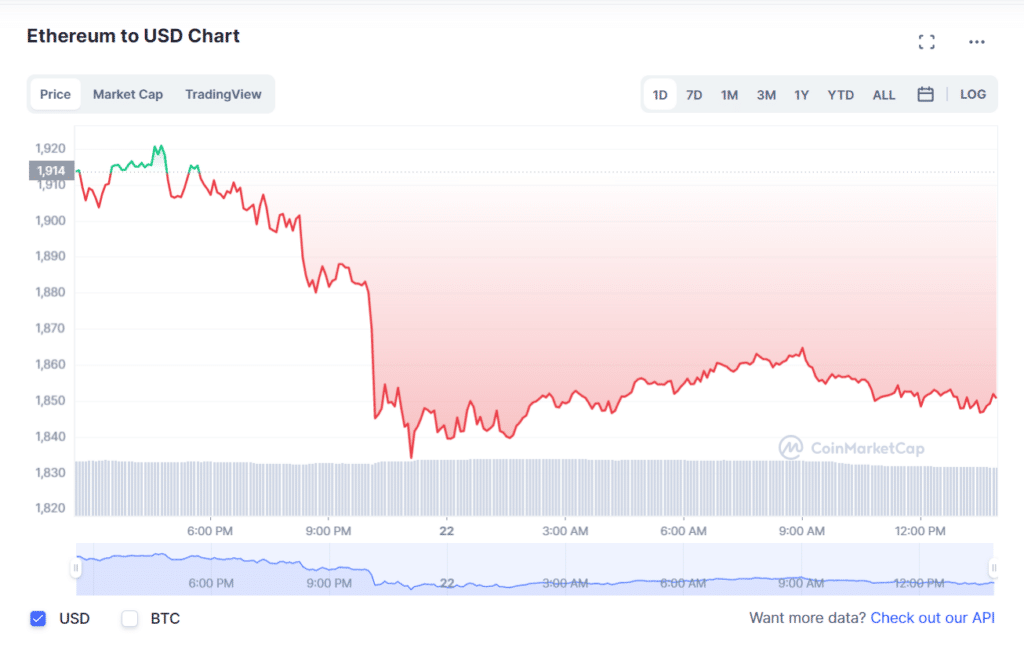 Based on the general performance of the crypto market, asset prices are fragile. This could partly be due to fears that the economy is turning for the worse. In addition, stock market fluctuations and the high inflation rate are not helping the situation.
Since the beginning of this week, the bears have been in charge, suppressing gains and driving down the prices of crypto assets. ETH was no exception despite bitcoin (BTC) price outperformance.
As of this writing, bitcoin is trading at $27,261.98, down 12% from its recent high of $31,000.
Ethereum traders expect a rebound
ETH saw a false breakout of the $1,896 psychological support level. If the bulls intensify, the coin could recover between $1,920 and $1,930.
Still, chartists remain pessimistic about ETH prices. If prices stay below $1913, the bears could continue pushing the coin to new lows.
This is despite ETH price consolidating inside a broad channel with bears frequently emerging at the top. The bulls' inability to defeat the bears means prices could stay below $2,000 for an extended period, a disadvantage for confident bulls.