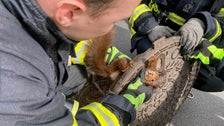 BERLIN (AP) — Firefighters say they freed an "uncooperative" squirrel that was stuck in a manhole cover in western Germany — echoing a similar incident in the same city four years ago .
The Dortmund Fire Department said it was alerted to a red squirrel in distress by a pedestrian on Monday afternoon, after spotting its head peering out of a hole in the road. The woman covered him with a scarf to calm him down before calling for help.
A team of firefighters who arrived on the scene carefully removed the manhole cover and tried to extricate the rodent.
"It turned out to be quite complicated because the squirrel was uncooperative," the fire department said.
After further attempts, the crew was able to extract the animal unharmed and it disappeared into a nearby tree.
"It could not be determined if this was the same squirrel that had to be rescued from the same situation four years ago," the fire department said in a statement.