Data from on-chain analytics firm Glassnode reveals that bitcoin investors have been aggressively hoarding the cryptocurrency recently, a trend that could help prolong the ongoing rally.
The "accumulation trend score" is the key indicator being analysisas it indicates whether bitcoin investors have accumulated or distributed the digital asset in the last month.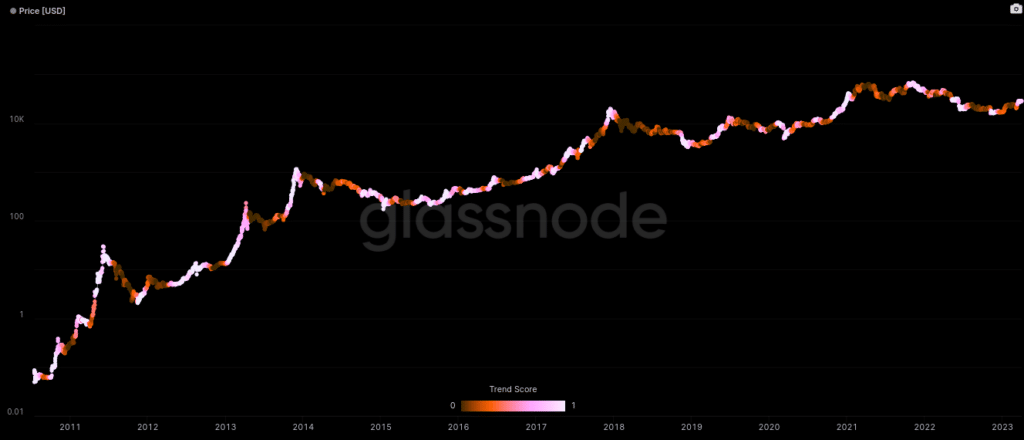 The accumulation trend score signifies not only the volume of coins bought or sold by the holders, but also the wallet size of the participants involved in the accumulation or distribution process.
A score close to 1 indicates that large entities or a significant number of small investors are currently accumulating the asset. Conversely, scores close to 0 suggest that holders are distributing or accumulating little at the moment.
A chart displaying the trend of Bitcoin Accumulation Trend Score over the past few years shows that in the first few months of the latest rally, the metric was closer to 0, implying that a substantial distribution has had place between large entities. This could indicate that investors were unconvinced that the recovery would last and were keen to secure their profits.
However, the recent trend has changed as the price approached $30,000. Interestingly, the current rally appears to be following a similar pattern to the April 2019 rally, which started following bear market lows and faced a substantial early distribution.
As this rally approached its "cycle base", investor behavior shifted towards strong accumulation and the indicator turned dark purple (values ​​very close to 1). The April 2019 rally saw strong upward momentum after this accumulation began.
With bitcoin price now approaching the $30,000 mark, the accumulation trend score has also shifted towards accumulation. This level represents the baseline of the current cycle, which bears a structural resemblance to the 2018-2019 cycle.
If the ongoing rally continues to follow the pattern of the April 2019 rally, the recent shift to accumulation could be a positive development for the price surge. As of this writing, bitcoin is trading around $28,200, marking a 4% increase from last week.