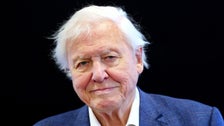 The BBC issued a strong denial after The Guardian reported that the broadcaster would refuse to air an episode of a documentary series narrated by David Attenborough for fear of angering the Tories.
Five episodes of the show, titled "Wild Isles", document the diverse natural species around the British Isles. The Guardian reported that a sixth episode focusing on the decline of these species would only be available on the BBC's streaming platform, iPlayer, instead of airing in a Sunday prime time slot.
The BBC, which promoted the series ahead of its debut this week, said The Guardian's reporting was "wholly inaccurate" and denied that a sixth episode ever made it into the series.
"Wild Isles is – and always has been – a 5-part series," the BBC press office said in A declaration.
The World Wildlife Fund, one of two environmental charities that helped fund the project, said that what The Guardian described as a sixth episode was actually a "supplemental documentary" that was "inspired by the series".
The Guardian said it heard from several high-level sources at the BBC, one of whom said the network was bowing to pressure from right-wing lobby groups with "dinosaur ways". The source also criticized the decision to separate the conservation message from the main attraction.
"Frankly, this idea that you kind of put it on a separate program to separate it almost to one side is dishonest," the source said, according to The Guardian. "Why don't they fit these stories into all of them at once?"
The BBC responded earlier Telegraph review more to take money from the WWF and the Royal Society for the Protection of Birds. Since the BBC receives its funding through taxpayers, it is largely not supposed to defend for specific public policies, and charities had recently spoken out against a government plan to loosen development regulations.
Attenborough, however, has long been an outspoken voice on the urgent need to respond to environmental destruction and climate change. In 2018, a survey found him to be the most popular person in Britain, closely followed by Tom Hanks.
The BBC's impartiality mandate sparked another controversy in its sports programming this week, after longtime football commentator Gary Lineker criticized a UK government proposal to curb migration. lineker was forced to "step back" from the presentationresulting in a furious response from sports fans.