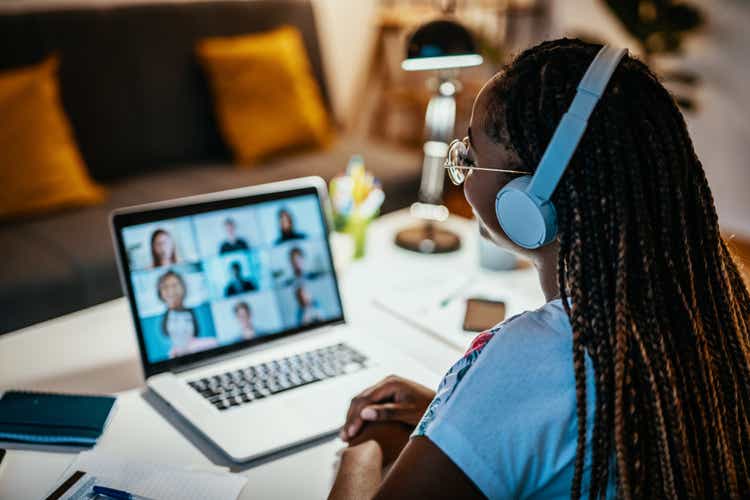 Nerdy Inc. (NYSE: NRDY) shares soared 30% higher in Wednesday's session after forecasting EBITDA breakeven before the end of 2023.
For the fourth quarter reported Wednesday evening, the St. Louis-based e-learning company reported a loss of $0.10 per share, $0.11 better than expected, while narrowly beating revenue expectations. Active learners on the platform also rose to 63,683, well above the consensus estimate of 50,726.
CEO Chuck Cohn told analysts the company expects continued momentum in the business and noted the launch of two new AI-powered products to help improve profitability. These include an AI-generated lesson plan creator and an AI-generated chat tutoring product.
Importantly, Cohn also reported EBITDA profitability by the end of the year due to strong sales and profitability improvements.
"Recently, we've seen improved Adjusted EBITDA performance each month as we move up the J-curve," he said. "Given our recent momentum, we have increased visibility and confidence in achieving Adjusted EBITDA profitability by the end of 2023, as previously announced."
For the full year, management expects adjusted EBITDA to range from a loss of $3 million to flat. Analysts had expected an EBITDA loss of $4.6 million for 2023. Revenue is expected to be between $190 million and $200 million, in line with the consensus of $195.45 million.
Nerdy (NRDY) stocks have surged 33% higher at an intraday high before stabilizing near a 27% gain near the midpoint of Wednesday's trading session.
Read the earnings call transcript.