What year ! Together with you and the other members of MoveOn, we managed to prevent a republican MAGA "red wave" and win crucial elections while passing groundbreaking legislation, all in a political environment shaped by black money, misinformation and right structural advantages. While it was a challenging year on many fronts, it was also marked by historic achievements, many of which millions of MoveOn members have helped to achieve through our people-focused grassroots work.
We've prevented a red tide, expanded the Democratic majority in the Senate, and elected governors and secretaries of state who will stand up for democracy:
We helped re-elect Senator Raphael Warnock and helped John Fetterman win the Pennsylvania Senate race.
We've elected Secretaries of State and Governors in critical states for the 2024 presidential election, beating all of the most extreme Trump-backed Holocaust deniers for offices that help run the election.
MoveOn members have made over a million phone calls, donated more than $1 million directly to candidates in critical races and endorsed nearly 100 Democratic and progressive champions for the Senate, House of Representatives, governorships and Secretaries of State.
You can read the full MoveOn 2022 election report here.
We put the wind in the sails of Congress to have one of the most productive sessions in history and pushed the Biden administration to use its power to make this economy work for all of us, not just the super- rich :
Democrats in Congress passed the Inflation Reduction Actthat will cap out-of-pocket spending on prescription drugs for Americans under Medicare, make a historic investment in green jobs and our climate future, and force businesses to pay more of their fair share.
It was one of the most productive sessions of Congress in decades – and even in the final days of Congress we saw the passage of the Respect for Marriage Act to prevent an illegitimate right-wing Supreme Court from undoing federally recognized equality for same-sex and interracial marriages.
Our rallies, petitions, letters to the editor, actions on Capitol Hill and ongoing advocacy contributed to President Biden's historic announcement of cancel large amounts of student debt which weighs on our economy.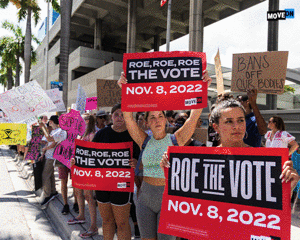 We stood for the right and access to abortion throughout the year and at the polls:
When the illegitimate, Trump-filled Supreme Court overturned Roe's protections, hundreds of thousands of MoveOn members have participated in the "Our Bodies. Our vote. commit to defeating the Republicans in November.
We invested in impactful messages and ads that put abortion rights front and center in key races and backed Democrats who were poised to make it a central issue in 2022.
We continued to 'Roe the Vote' – with actions and birddogging across the country and with videos showcasing the voices of MoveOn members.
We continued to hold Trump accountable, to tell the truth about the deadly January 6 insurgency, and to tackle sources of MAGA disinformation:
We fought against the corruption of Clarence Thomas, who refused to recuse himself from cases concerning his wife's involvement in the coup attempt, as over a million of us have called for his removaldelivered the petitions to Capitol Hill and ran newspaper advertisements about his unfitness to serve.
We ran campaigns against General Motors, Apple and other companies to force them to sever their ties and support Republicans who were part of the murderous insurgency trying to overthrow the election – and we helped winning the campaign for AT&T to stop funding One America Networkmajor source of right-wing misinformation about January 6 and the pandemic.
We accelerated the work of the January 6 committee, helping its findings reduce media misinformation and noise and calling on them to make criminal referrals, which they did last week.
After defeating Trump's MAGA candidates for Secretary of State, we prepared to face Trump himself – meeting his campaign ad with our own campaign to defeat him at the polls while holding him accountable for his crimes, because no one is above the law.
We did it all our way— with local giving, citizen action, member-led campaigns, strategic partnerships and cross-movement collaboration. Millions of MoveOn members took action this year– from signing petitions to appealing to Congress, protesting in the streets, participating in voter education and much more. And we've been powered by millions of local donations, with the average donation less than $15.
And that's not all. Throughout the year, MoveOn members took to the streets, telephones, Capitol steps, their local plazas and congressional offices, the airwaves, local newspaper pages and social media to propel a progressive change, writing history and standing up with communities under attack from the right.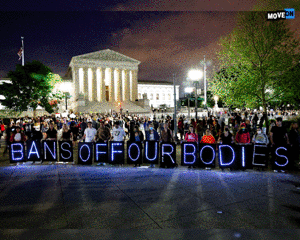 MoveOn members have fought to pass laws, to keep up the pressure for congressional and administrative action for an America that works for all, and to win historic confirmation at the Supreme Court:
Hundreds of thousands of MoveOn members have taken action to support confirmation from Judge Ketanji Brown Jackson and to celebrate the historic confirmation of this exceptional judge. At the same time, MoveOn members called for the expansion and rebalancing of the court to counter far-right influence and restore the integrity of the institution.
MoveOn members pushed Democrats to pass the first gun safety laws in decades, the Emmett Till Antilynching Act, veterans health support, and reforms to strengthen the Postal Service.
Members continued to work with Dreamers to make DACA permanent and support our immigrant neighbors against anti-immigrant politics and bias.
From fighting for Federal Reserve Board candidates to supporting the antitrust work of the Federal Trade Commission, MoveOn members have fought alongside champions in government who seek to rein in the corporate power and putting consumers first.
MoveOn members have stood up across the country when the right has attacked our rights, freedoms and communities:
MoveOn members took to the streets with Planned Parenthood and other national allies to hold over 1,000 Bans Off Our Bodies rallies with over 1 million attendees in May and June, while raising money directly for abortion providers in states where Republicans have passed the toughest laws to deny pregnant women the health care they need.
As Texas, Florida and other states attacked trans youth and their families, MoveOn members worked directly with state-based allies to combat these assaults. In light of the ongoing attacks on LGBTQ+ communities, we launched Generation Rainbow, a site dedicated to starting and supporting petitions centered around LGBTQ+ equality, rights and respect.
When right-wing activists stepped up their book bans, nearly 200,000 MoveOn members have called on school districts not to ban books on the Holocaust, and hundreds of thousands of others have taken action to push back on further bans to censor books on slavery, gender, racial justice, and more.
After the Buffalo and Uvalde massacres, we took action to tackle the intertwined cultures of white supremacy and gun violence – with petitions against Tucker Carlson's white supremacist rantings on Fox News and actions against the NRA convention in Texas just days after the Uvalde school shooting. .
MoveOn members acted in solidarity against militarism and for freedom around the world:
After Putin launched a devastating and baseless war against Ukraine, MoveOn members have donated over $1 million to humanitarian organizations and took steps to promote diplomacy and show solidarity with the people of Ukraine.
MoveOn members called on US media to better address the uprising in Iran, center the voices of women and youth leading the uprising, and stop spreading misinformation that bolsters the current regime.
Through these measures, millions of MoveOn members have signed petitions, organized petition deliveries, written editorials, made tens of thousands of phone calls, and ensured that the slimmest Democratic majority had grassroots activism that propelled it forward.
MoveOn is its members. Our work in 2022 is a testament to what we have all done together and a promise of what we can do together. So THANK YOU for being part of this work and this community this year!
We know that MAGA was damaged but not defeated. We know that the dangers of white supremacy, misinformation, and corporate power continue to impact our democracy, our society, and our daily lives.
We also know that when we all work together, we can achieve great and mighty victories. MoveOn members represent a broad base of fellow Americans committed to justice. Together, we will continue to care for our communities and build the political power needed to effect lasting change.
Thanks for everything you do.