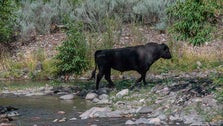 ALBUQUERQUE, NM (AP) — A helicopter with a gunner will fly over part of the vast Gila Wilderness in southwestern New Mexico next week, looking for wild cows to kill.
U.S. Forest Service officials on Thursday approved the plan to protect sensitive spots in the nation's first designated wilderness area. The move sets the stage for legal challenges over how to handle unbranded cattle and other stray cows as drought worsens in the West.
The Gila National Forest made the decision under pressure from environmental groups who raised concerns about nearly 150 cattle whose hooves and mouths are damaging streams and rivers. Ranchers, meanwhile, have slammed the plan to shoot cows from a helicopter as animal cruelty. They said the action violates federal regulations and will be problematic when the carcasses are left to rot.
A section of the Gila Wilderness will be closed to the public from Monday. A helicopter will be launched on Thursday, with shooters spending four days searching for wild livestock in rugged areas that include the Gila River.
Forest supervisor Camille Howes said the decision was difficult but necessary.
"Wild cattle in the Gila Wilderness have been aggressive towards wild visitors, graze year-round, and trample banks and springs, causing erosion and sedimentation," she said in a statement.
Livestock industry groups and other rural advocates fear the moves in New Mexico could set a precedent as more tracts of pasture fall vacant in the West.
Ranchers say fewer people are maintaining the fences and rural neighbors who helped corral stray cows are gone. Some have left the business due to worsening drought, scarcity of water for livestock, and soaring costs for feed and other supplies.
The New Mexico Cattle Growers' Association estimates that about 90 pasture plots are vacant in New Mexico and Arizona. Increased use of public lands – including hunting and hiking – has also led to the fall of fences, the association said. The elk are also to blame for damaging the fences meant to control the cows.
Tom Paterson, chairman of the association's wildlife committee, said the group had been trying to find a solution that didn't involve shooting wild livestock. He pointed to a recent directive issued by the New Mexico Livestock Council that allows neighboring licensees to herd and round up livestock.
With snow on the ground, access is limited. Paterson said federal officials were not giving enough time to see if the directive would work. His organization also accused the US Forest Service of circumventing its own regulations that call for a roundup first and a shoot as a last resort.
"Easy is no exception to its own rules. Frustration is no exception to the rules," he said. "Our society should be better than that. We can be more creative and do it in a better way without wasting an economic resource.
Environmentalists in dozens of lawsuits in Western courts over the years have argued that livestock ruin land and water by trampling the banks of streams. They applauded the Forest Service's decision.
"We can expect immediate results: clean water, a healthy river and restored wildlife habitat," said Todd Schulke, co-founder of the Center for Biological Diversity.
The stance marks a shift from the environmental community's stance on shooting other wildlife – from a fight for protection bison at the Grand Canyon to annual complaints about the actions of the United States Department of Agriculture's Wildlife Services, an agency often reviled for killing birds, coyotes, wolves, cougars and other animals.
Just last month, environmentalists filed a lawsuit in Montana over a scheme to manage grizzly bears. In 2021, conservation groups settled another lawsuit on wildlife service practices in Idaho. Environmental groups there and elsewhere have long claimed that the agency's predator control activities violate environmental laws.
But in New Mexico, the Center for Biological Diversity argues that water quality issues will only get worse if feral livestock aren't removed. The group estimates that 50 to 150 cows are grazing, without permission, in the Gila Wilderness, a remote expanse that spans more than 870 square miles (2,253 square kilometers) and is home to Mexican gray wolves, elk, deer and other endangered wild animals.
The National Cattlemen's Beef Association had asked the Forest Service to halt all lethal action for a year after the New Mexico Cattlemen's Association reached a settlement with federal authorities following the year's operation. last. The New Mexico group is expected to challenge the latest decision.
According to the Forest Service, the problem of feral cattle dates back half a century, when a cattle operation went out of business and subsequent grazing permits were suspended. Hundreds of unauthorized cattle have been removed over the years.
In 2022, a Forest Service contractor killed 65 cows in an aerial shooting operation similar to the one scheduled for next week.
Photos shared by herders from the 2022 operation showed dead cattle upside down in the Gila River. Federal officials said those carcasses were pulled from the water. A survey 90 days later revealed that there were no carcasses left. Scavenging birds and other animals consumed them, officials said.
The upcoming operation will cover approximately 160 square miles (414 square kilometers).
No carcasses should be left in or near waterways or springs – or near designated hiking trails or known, culturally sensitive areas.
The works, namely the sound of the helicopter, also cannot interrupt the breeding season of the Mexican spotted owl, the southwestern willow flycatcher and other endangered species. The aerial shooting operation is expected to be completed before April, when the season begins for Mexican gray wolves to have cubs.
Conservationists used to point to the removal of cattle carcasses as a preventive measure to limit conflicts between wolves and ranchers. However, federal officials said in documents released this week that there is no scientific research or observational data to suggest that once wolves feed on a cattle carcass, they become habituated to the cattle.