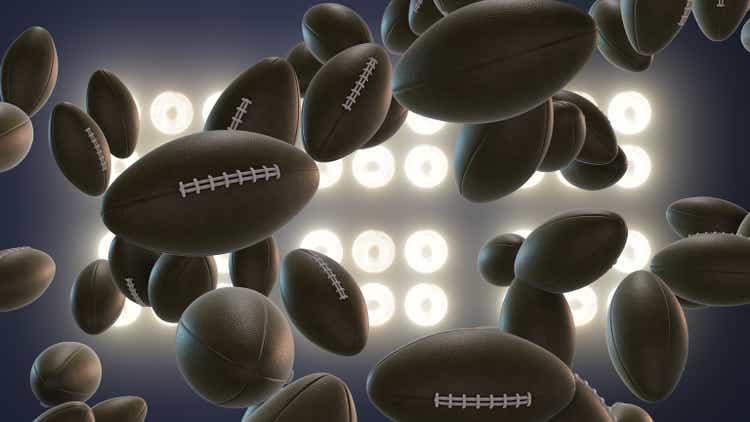 The NFL Super Bowl between the Philadelphia Eagles and Kansas City Chiefs is expected to be the most watched event of the year. Advertisers this year are paying up to $7 million to advertise themselves +100M somewhat captive viewers.
The list of advertisers is very light on crypto this year, but includes a double hit of liquor companies. Molson Coors (TAP) and DraftKings (NASDAQ: DKNG) are running a unique Super Bowl promotion that will allow fans to earn money by predicting advertising details for the Coors Light and Miller Lite brands during the game. It should be noted that High Stakes Beer Ad's $500,000 prize pool is the largest of any free non-sports contest offered in DraftKings (DKNG) history. Molson Coors (TAP) is returning to the Super Bowl this year for the first time in 30 years due to the expiration of Anheuser-Busch's (BUD) exclusive contract. Anheuser-Busch InBev (BUD) will have a strong Super Bowl presence this year, even though the beer giant has waived its exclusivity deal that kept other alcohol brands on the sidelines. The beer giant landed three minutes of airtime and will include commercials for traditional brands Michelob Ultra and Bud Light, instead of Bud Light Seltzer or a craft brand. It should be noted that Busch Light will be making its first appearance in Super Bowl commercials since 2017 after experiencing double-digit growth over the past five years. Other liquor companies in the Super Bowl spotlight include Heineken NV (OTCQX:HEINY) with a non-alcoholic beer commercial and Diageo (DEO) with the first Super Bowl spirits commercial. Also in the mix, French company Remy Cointreau (OTCPK:REMYF) locked in a 60-second ad for its Remy Martin cognac.
Other notable in-game advertisers will include travel site Booking.com (BKNG), online shopping site Rakuten, Dexcom (DXCM), Procter & Gamble's (PG) Downy, Unilever (UL) Hellman's, PepsiCo's ( PEP) Popcorners and Pringles, DraftKings (DKNG), Uber (UBER), Workday (WDAY) and a unique combo between General Motors (GM) and Netflix (NFLX) to highlight their EV partnership. A notable change this year will be the halftime show with Apple (AAPL) taking over from PepsiCo (PEP) as title sponsor. The Cupertino tech giant will target visibility for its Apple Music product with Rihanna leading the entertainment at halftime.
Naturally, the Super Bowl is expected to set a record for legalized betting volume due to new states with casinos and mobile betting. The American Gaming Association expects 30 million Americans plan to place a traditional bet online, at a bookmaker or with a sportsbook, while another 28 million plan to bet with friends or as part of a billiards or squares competition. Macquarie predicts that $1.0 billion to $1.5 billion will be bet legally on the Super Bowl, not far off a normal NFL regular season weekend tally. However, analyst Chad Benyon said the high volatility of a single match result can be material to monthly/quarterly GGR numbers for sports betting operators like DraftKings (DKNG), Barstool (PENN), Caesars Sportsbook (CZR) and BetMGM (MGM) (OTCPK: GMVHF).