Not so long ago, Britain was considered "the sick man of Europe". The 1970s were marked by inflation, union strikes and a increase in public expenditure as a percentage of GDP. Now a new exhibition of photographs at the National Gallery of Art (NGA) invites an American public to consider snapshots of life as it was for ordinary Britons from the 1970s to the 1980s and how the nation went from a sick and deindustrialised country to greater economic prosperity from the 1980s. It's a difficult story to tell, because to this day people have feelings about the upheaval that accompanied this change.
The exhibition, "This Is Britain: Photographs from the 1970s and 1980s", features 45 images taken by a diverse set of approximately 19 documentary photographers who wanted to convey the circumstances and/or difficulties of a particular community. The late photographer Chris Killip (1946-2020), for example, lived in a trailer (trailer park) in the North East of England for over a year, photographing a community of people subsisting on unemployment benefits and selling coal waste washed up on the beach (see: Margaret, Rosie and Val, Seacoal Camp, Lynemouth, Northumberland).
Photographer Vanley Burke, raised in Jamaica until moving to Birmingham as a teenager in 1965, chronicled black British life, as a smiling boy posing in 1970 with his bicycle, flying the British flag in a way that expresses the importance of immigrants' self-identification as British (see: boy with flag). Graham Smith photographed his economically depressed community in the North East of England. His poignant image from 1981 Clay Lane Ovens, South Bank, Middlesbrough seems to tell the story of an industry in decline.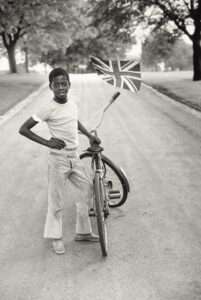 An American curator, Kara Felt, was behind this NGA exhibition. Its photo selections and accompanying text make it, in a real sense, a British story told by an American to an American audience. Felt was originally inspired by a similar 2015 exhibition at the Walker Art Gallery in Liverpool. The 1970s and 1980s represented a "genuine renaissance in British photography", Felt said in an interview. It was a time when museums began to support photography, and schools of the profession became less professional and more focused on the artistic aspects of the medium, she explained.. She also discovered that it had been about 30 years since the last major presentation of such photographs to an American public, a 1991 exhibition at the Museum of Modern Art in New York entitled "British Photography from the Thatcher Years."
The first thing to know about 1970s Britain from looking at the photographs is that things got really bad. Inflation has shifted 24% in 1975. The same pound bought much less than before. It's stressful to contemplate, given the The American experience in the 1970s era – and again recently– struggling with too high inflation which peaked at almost 15% in April 1980. During this time, the British government owned and operated entire industries – steel, railways, airways, airports and aerospace – as well as utilities – gas, electricity, telecommunications, and water. It was not going well. Too many industries have been propped up by taxpayers instead of striving to win consumers and compete globally.
To make matters worse, the unions organized incessant strikes throughout the 1970s pressure lawmakers to raise their salaries. "Because so much industry has been nationalised, pay rises have been agreed on 'beer and sandwiches' at 10 Downing Street, not at company offices; and if politicians claim to be short of money, the unions could ransom the public with strike action," says my colleague Iain Murray, originally from South Shields, the 'industrial heart of North East England', where most men were employed in shipbuilding and coal mining.
In fact, the list of industries on strike is somewhat gruesome – crucial sectors of the economy like gravediggers, automakers, coal miners, train drivers, garbage collectors, nurses, scrubbers. The strikes disrupted daily life, especially during the "winter of discontent" between November 1978 and February 1979. This meant problems like hours or days with no electricitythe unburied dead, piles of uncollected rubbish and even raw sewage dumped into the Thames and Avon rivers.
These dire circumstances led voters to end Labor rule and instead, in May 1979, give the Conservative Party a chance to lead the country. And that brings us to the political figure inexorably associated with the decade to follow: Margaret Thatcher, the "Iron Lady" elected leader of the Conservative Party in 1975 and then Prime Minister from 1979 to 1990. She was and is by turns despised and revered, depending on who you ask.
"Margaret Thatcher was not a conservative, she was a revolutionary," says Marian Tupy, researcher at the libertarian Cato Institute. "The structure of the British economy changed under Thatcher, shifting more from heavy manufacturing to a service economy. In 1970, 30% of the UK economy was manufacturing and around 56% services, according to the UK Office for National Statistics. In 1989, there was 20% manufacturing and almost 67% services. "Instead of being a sixth or 10th generation miner, people had to try something new," Tupy said.
In short, Thatcher was not trying to maintain a long-standing status quo. She espoused free market values, broke the power of unions, abandoned price controls and other stifling economic regulations, and began to privatize government-run industries. "We have stopped creating wealth", Thatcher told William F. Buckley in 1977. "To create more, you need a slightly freer society and you need an incentive society." This kind of change was not for everyone. He supposed difficult times.
"Looking back in the 60s and 70s, you thought you had a job for life, you know?" a former coal miner turned museum curator told Welsh newspaper in 2020. "Coal mines (coal mines) had always existed in one form or another. The education was pretty good if you wanted it in the colliery, and the wages were reasonable. So, you thought, 'that's it.' And then all of a sudden the place closed."
When Thatcher took office in 1979, 25% of the unemployed had been out of work for more than a year. In 1984 it was 39.6%. By the end of 1973, the unemployment rate itself was at an all-time high of 3.4%, but had nearly tripled to 11.9% by April 1984. There was a real upfront human cost to the Thatcher reforms. But between the mid and late 1980s, the country benefited from a economic boom.
At the NGA exhibition, the 1980s room is introduced with the caption "Picturing Absurdity in the Thatcher Years" and explains that photographers "used the brash colors of advertising to poke fun at the rise of leisure activities, consumerism and corporate greed" of this boom time and "openly mock long-held traditions and challenge the emerging values ​​of British society". This includes, for example, a image of the Cambridge university ball in 1989 by Chris Steele-Perkins in which the revelers are put under hypnosis, just for fun. The accompanying curator's text explains that image "comments wryly on the excesses and zombie conformity of Britain's upper-class youth". (Making fun of "yuppies", as Tupy aptly put it.)
As a viewer, I could easily rewrite this as "capturing the delight and relief that people now have more free time and activities, access to better and more affordable consumer goods, and all thanks to private sector enterprises generating real economic prosperity". That's not how photo journalists seem to see it. Here, for example, is photographer Paul Reas's garish 1987 image of a man buying pork while wearing a pig-patterned sweater, Pig's Hand, Newport South Wales. Or the photo series by Anna Fox "to poke fun at the escalating materialism associated with Margaret Thatcher" and "to probe the competition, stress and alienation of office work in London".
Photojournalists may have been, on average, more cynical about consumerism than ordinary people. The trappings of industry and manufacturing can seem noble and beautiful, in a way (see: Agecroft Power Station, Salford by John Davis). But industrial-age manual labor was no joke.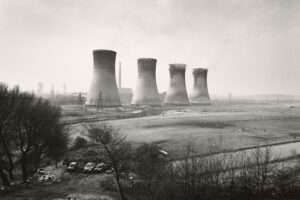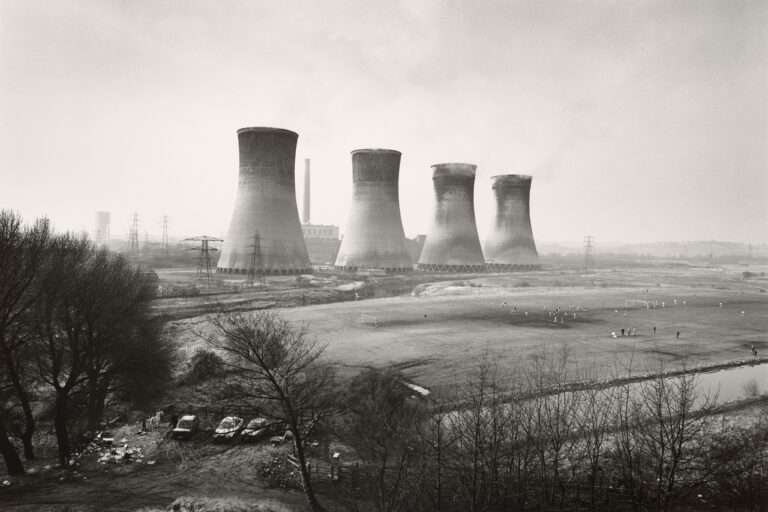 In November 2021, I visited the remains of a turn-of-the-century coffin-making factory in Birmingham, a leading city in the Industrial Revolution, Britain's second largest city and the birthplace of the band Rock and Roll Hall of Fame. members of Duran Duran. The Newman Brothers factory is now the Coffin Works Museum. But at the time, workers were making coffins for the thriving business of formal funerals. Sometimes, if they weren't careful or quick enough, they could lose a finger in the machinery, like the "drop stamp"used to press a shape into a piece of sheet metal. Throughout the day, a worker would repeatedly drop a heavy weight or hammer on the piece of metal, then quickly pull it out, quickly replacing it with a new piece of metal . Windows, including many 21stCentury workers in developed countries now take for granted, needed daylight to illuminate the factory, but were made opaque to prevent workers from looking out the window. There's a reason so many young people probably didn't want the jobs of their parents and grandparents.
The country's transformation into a post-industrial economy had its trade-offs, but they were certainly a net gain for the British. Where photographers may seem alternately nostalgic and cynical, an American viewer of the National Gallery of Art exhibition might see the emergence of a country of drudgery to opportunity, abundance and prosperity.
It should be mentioned that the exhibition also refers violent political unrest of the time, in England and more North Irelandwith two films dealing with race and sexualityall the thorny subjects worthy of theirs reflection and examination.
"This Is Britain: Photographs from the 1970s and 1980s" is on view at the National Gallery of Art from January 29 to June 11, 2023, in the West Building.