Last week, MoveOn members and George Santos voters made huge waves by staging the "biggest rally against Santos yet", offering more 100,000 petition signatures calling for his resignation directly to his district office. With TV coverage from ABC, NBC, CBS, WPIX and many more (even Fox!), this people-powered action put MoveOn members at the forefront of a huge national story while creating real pressure on this lying and corrupt Republican MAGA.
Check out some pictures from this event!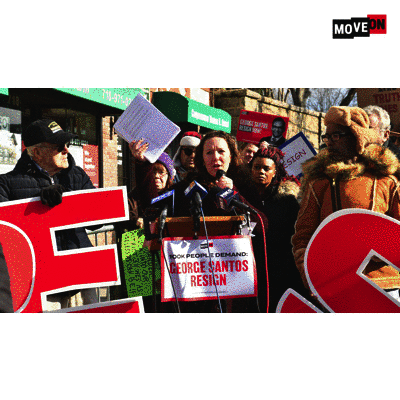 If you haven't signed the petition yet, add your name today to continue pushing for the removal of George Santos. And if so, share it with three friends to keep it going!
Journalists called our rally the biggest rally against Santos to date, demonstrating growing pressure for him to resign. MoveOn member and NY-03 voter Charlie Robbins addressed reporters saying: "There is no doubt in my mind that Mr. Santos is unfit to represent the people of Congressional District 3. We have no idea what he represents, other than himself, his power and his greed. That's why I joined over 100,000 people to sign this petition calling on Mr. Santos to step down. He delivered the petition directly to a staff member in Santos' office.
Clearly Rep. Santos should not be in Congress. Even 78% of his own voters want him to resign. But at this point, GOP leaders and other MAGA accomplices are on board with keeping him in Congress as long as he votes the way McCarthy wants. That's why we have to keep up our pressure.
And our pressure is working. George Santos has temporarily recused himself from two House committee positions. It is a step in the right direction. More and more Republicans are even distancing themselves from him. Although he may think this will all blow up, we must continue to expose his lies and stand in solidarity with the members of MoveOn at NY-03 and fight until he is gone.
Allowing George Santos, who fabricated almost every aspect of his life, to serve in the House is another outrageous illustration of how far the GOP is willing to go to amass power and advance its MAGA agenda to take away our freedoms and degrading our democracy. establishments. Santos has lost his district's trust, and his continued service in Congress is a threat to us all.